Xiaomi Mi Mesh System AX3000 Black (2-Pack) [ RA82 ]
Stay connected with Wi-Fi 6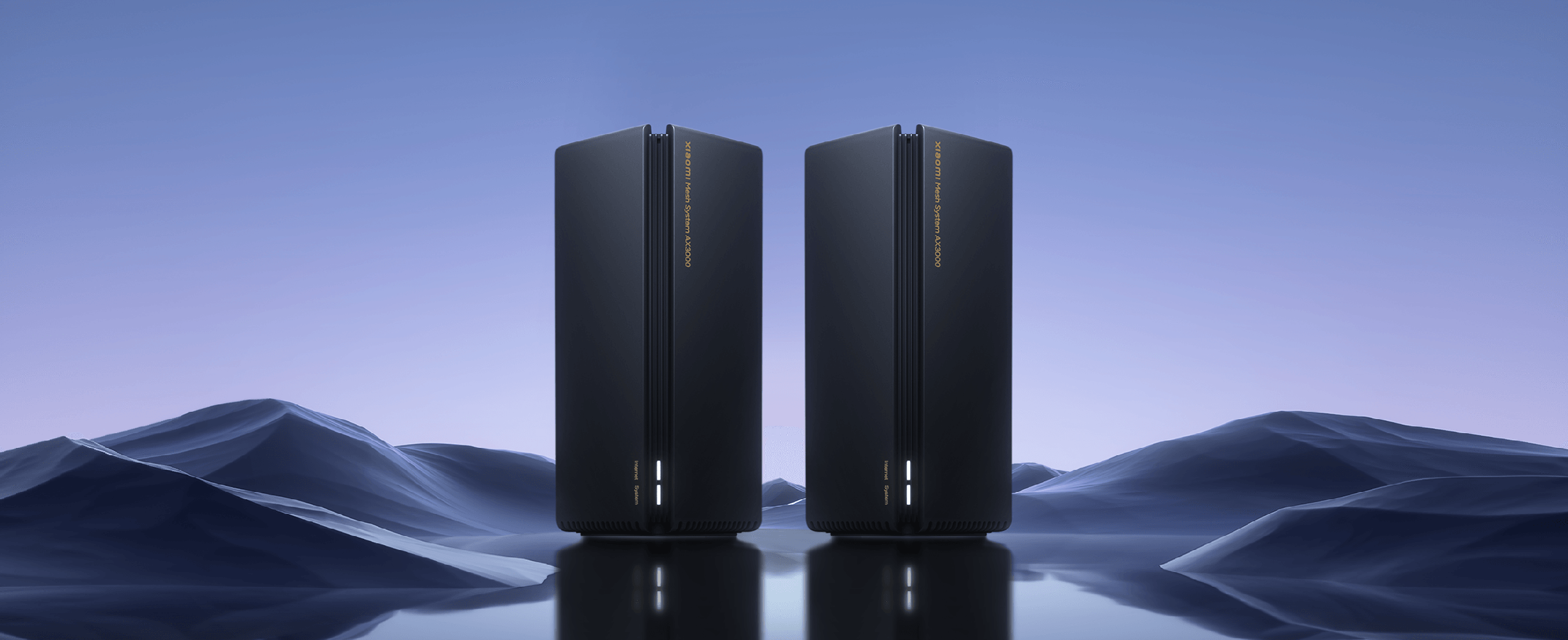 BSI Kitemark™ certified* The data security you can trust

Xiaomi's mesh system provides full coverage for complex home arrangements
Xiaomi Mesh System AX3000 (2-Pack) combines into a mesh network that provides Wi-Fi 6 coverage throughout the home, covering up to 4,000 square feet of space. Xiaomi Mesh System AX3000 supports mesh networking with the same model and/or Mi Router AX9000 for up to 10 total devices. The signal roams between different routers automatically and seamlessly, allowing you to play as you go.

Mesh system with self-repairing* capabilities
In a mesh network created using Xiaomi Mesh System AX3000, when a failed node is detected, the entire network architecture is re-planned to ensure normal mesh network operation.

The easy-to-use mesh set is smart and simple to install
Xiaomi Mesh System AX3000 (2-Pack) bundle is pre-configured at the factory, so no complicated set-up is required, and it is ready to use*. It's now easy to enter the high-speed Internet era, with no expertise required.
Get started right away and enjoy lightning-fast Wi-Fi 6
Xiaomi Mesh System AX3000 (2-Pack) offers 2.4GHz and 5GHz bands, each with 802.11ax technology. The two bands offer a combined dual-band wireless speed of up to 2976Mbps *. That's nearly twice the speed of a typical AC1200 router. 1024 QAM technology is also faster than Wi-Fi 5's 256 QAM, so you don't have to wait for high-speed Internet access.

160MHz high-bandwidth for a superb experience
If bandwidth is like a highway, conventional 2-lane traffic systems are always congested. With the Xiaomi Mesh System AX3000 (2-Pack), however, the width of every lane, and speeds in the 5GHz band are doubled *. Enjoy an ultimate smooth online experience, even when connecting with multiple devices.

High-efficiency OFDMA transmission makes Internet access smoother for multiple devices*
OFDMA technology allows routers to process data flows from multiple devices simultaneously when large devices require data transmission, effectively reducing network congestion and greatly reducing latency.

Stable online connectivity for 254 devices simultaneously*
The smart home era is bringing an ever increasing number of connected devices into the home. Each Xiaomi Mesh System AX3000 (2-Pack) product comes with 256MB of RAM to cater to occasional complex environments with large numbers of devices such as family gatherings or parties, so that stable connectivity and response is ensured in time.

Not just energy efficient, but more durable
Target Wake Time technology only connects when a transmit signal is received, otherwise remaining in sleep mode. This effectively reduces average power consumption when connecting to Wi-Fi devices, and extends the product life span.
* TWT technologies require to be supported by endpoint devices.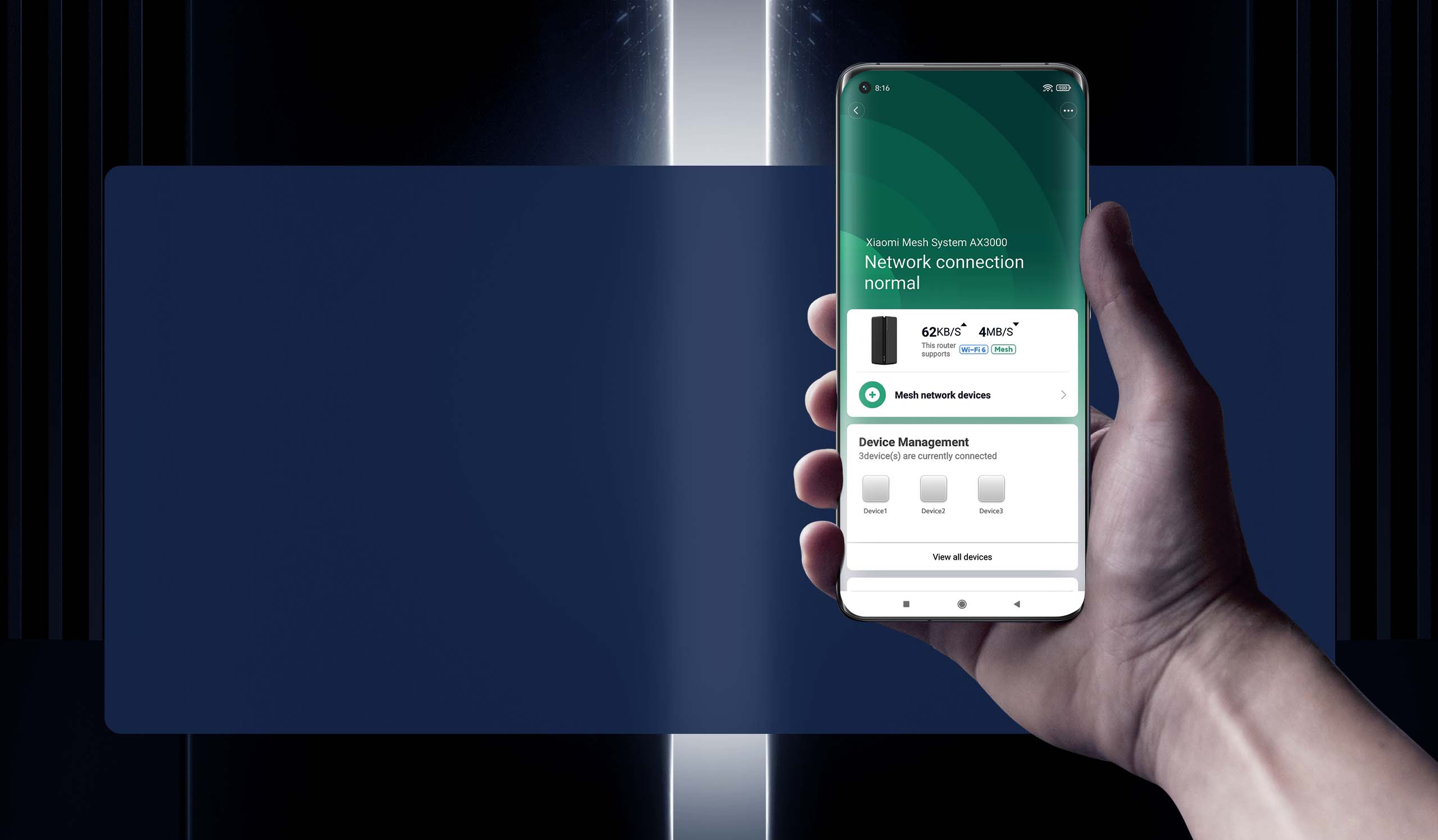 A simpler, smarter user experience
Xiaomi Mesh System AX3000 (2-Pack) supports intelligent control via the Xiaomi Home/Mi Home app, simplifying network configuration so that even novice users can easily access high-speed networks.
One pack, More options
If this package does not meet your needs, we also offer Xiaomi Mesh System AX3000 (1-Pack). Whether you live in a small apartment or a large house with several floors, we have the right on-demand solution for you to create the Internet connectivity you want.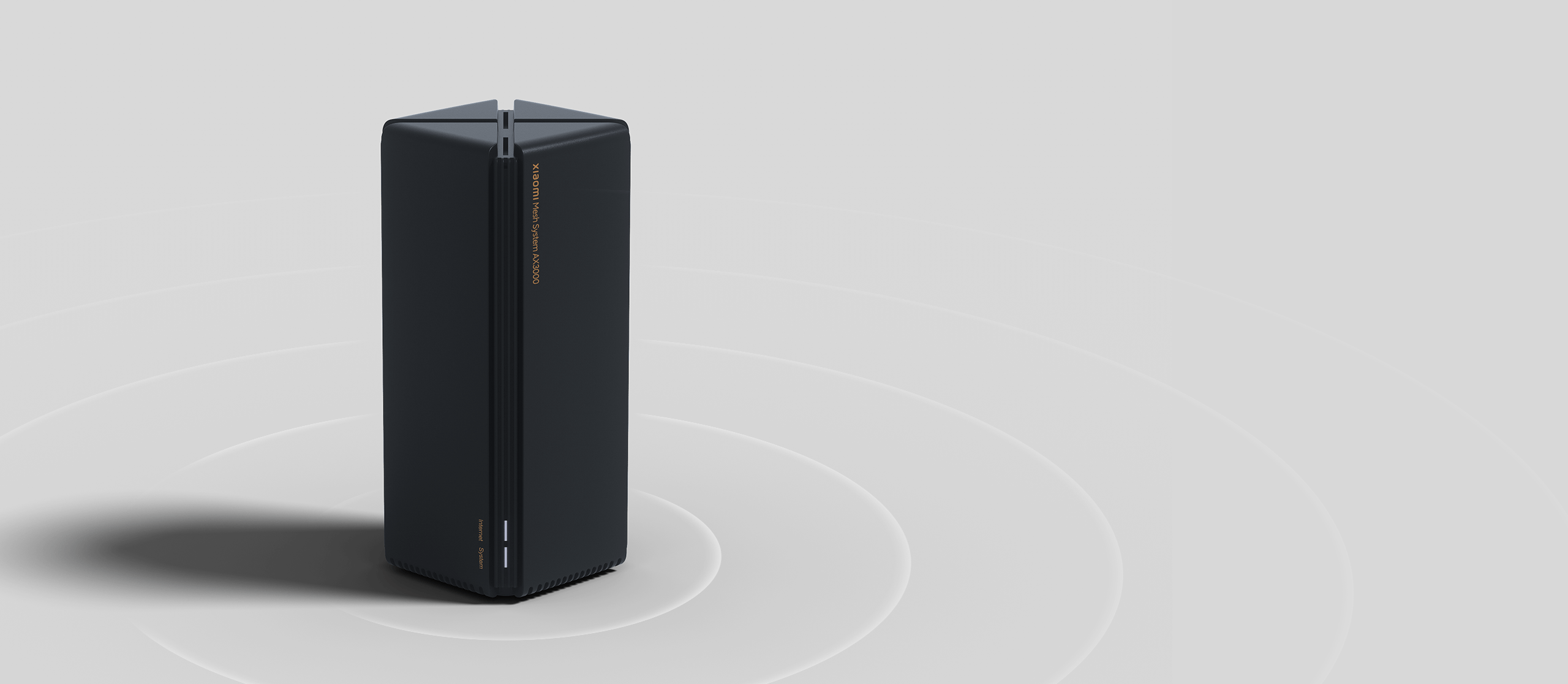 Cool black rectangle cube-shaped design
Concealed dual-band high-performance antennas, tower-type thermal architecture, large channel convection and extra-large metal heat sink ensure stable operability.

Greater specialist technology support

Specs:
Hardware configuration
Processor
Qualcomm® IPQ5000 Dual-core A53 1.0GHz CPU
Network processing unit
Single core 1.0GHz NPU
Memory
256MB
2.4G Wi-Fi
2×2 (supports up to IEEE 802.11ax protocol, the theoretical maximum rate is 574Mbps)
5GHz Wi-Fi
2×2 (supports up to IEEE 802.11ax protocol, the theoretical maximum rate is 2402Mbps)
Antennas
High gain antennas
Heat dissipation
Natural heat dissipation
Total ports
1×10/100/1000Mbps self-adaptive WAN port (Auto MDI/MDIX)
3×10/100/1000Mbps self-adaptive LAN ports (Auto MDI/MDIX)
LED indicator light
2 lights, System indicator × 1, Internet indicator × 1
System reset button
x1
Mesh networking button
x1
Power input port
x1
Protocol standards
IEEE 802.11a/b/g/n/ac/ax,IEEE 802.3/3u/3ab
L×W×H (per unit)
97mm × 97mm × 222mm
Wireless specifications
Product color
Black
Dual-band
2.4GHz, 5GHz
Modulation
11b:DSSS:DBPSK(1Mbps),DQPSK(2Mbps),CCK(5.5/11Mbps)
11a/g:OFDM:BPSK(6/9Mbps),QPSK(12/18Mbps),16QAM(24/36Mbps), 64QAM(48/54Mbps)
11n:MIMO-OFDM:BPSK,QPSK,16QAM,64QAM. Data rate:MCS0-MCS15
11ac:MIMO-OFDM:BPSK,QPSK,16QAM,64QAM,256QAM.
11ax:MIMO-OFDM:BPSK,QPSK,16QAM,64QAM,256QAM,1024QAM.
Software specifications
Data rates: MCS0-MCS11 (supports 2 streams).
Operating system
Mi Wi-Fi ROM, a smart router operating system based on OpenWRT
Wi-Fi Encryption
WPA-PSK/WPA2-PSK/WPA3-SAE encryption, Wireless access control (black and white list), SSID hidden
Working Environment
Management applications
Supports Web, Android, iOS
Working environment Temperature
0-40℃
Operating humidity
10%-90%RH (non-condensing)
Storage temperature
-40-70℃
Storage humidity
5%-90%RH (non-condensing)
Package contents
Xiaomi Mesh System AX3000
Instruction Manual
Power cord
Network cable
Notes:
* Images on this page are illustration and the design of the real product may differ.
*Xiaomi Mesh System AX3000 obtained the Kitemark™ Certification for Residential IoT Devices from British Standard Institution (BSI), the business improvement and standards company. Additionally, Xiaomi Home app obtained the Kitemark™ Certification for Secure Digital Applications. Obtaining the Kitemark™ certifications means that Xiaomi products are in compliance with the best security practices, including the EN303645 standard issued by European Telecommunications Standards Institute (ETSI).
* A failure of the first node connected to the ISP will cut off Internet access for the entire network, preventing self-repair. This does not therefore cover the first mesh node used for ISP fibre optic connectivity.
* Only the two Xiaomi Mesh System AX3000 units in the kit are pre-connected to each other at the factory – this is not provided for all Xiaomi's mesh router products.
* 2,976Mbps is the maximum theoretical wireless speed when the 2.4GHz (576Mbps) and 5GHz (2,402Mbps) bands are used concurrently. Actual speeds may vary depending on network conditions and surroundings.
* 254 devices is the total combined 2.4G/5G/LAN connectivity under laboratory conditions.
* Wi-Fi coverage data was tested by Xiaomi's internal lab. Actual Wi-Fi coverage may differ due to network and environmental conditions.
* Use of Wi-Fi 6 (802.11ax), and features including 160Mhz, OFDMA, MU-MIMO, and 1024 QAM require end devices that also support the corresponding features.
For More Info. Click Here
For More Xiaomi Product Click Here