Corui Smart Plug Work With Amazon Alexa And Google Assistant
Moreover Corui Smart Plug 20A
  European smart socket can be controlled remotely by connecting to a Wi-Fi router Share Control– Control your smart home together with your family. Support Yandex Alice voice control
  
  20A high power: (Only available with sockets with this function) According to 220V voltage calculation, the maximum power can be 4400W, which can be used for water heaters, conditioners, and other high-power equipment. It is safer than 16A and has more application scenarios.
  Electricity statistics: View energy reports to properly track energy usage around your home. Know which devices consume the most energy, and make plans to save energy and electricity bills.
  Set schedule: Turn the connected device on and off at the specified time. Schedule the living room fan to turn on in the morning or schedule your child's light to turn off to let them know it's time to go to bed.The countdown function allows you to set a timer that automatically turns off, so you don't have to doubt whether you have unplugged the device.

  Voice control: Smart plugs can be used with devices supported by Alexa and Google Assistant for easy voice control.
  No gateway required The smart plug is suitable for any secure 2.4 GHz wireless network without the need for a separate gateway.
Operation method
APP Tuya/Smart Life
Download the APP (Tuya/Smart Life) through the App Store
– 1. Connect the power socket.
– 2. Press and hold the switch button on the socket for 5-10 seconds, and wait until the indicator light on the switch is in a flashing state.
– 3. Open the APP and click Add socket to connect.
– 4. Follow the instructions on the APP to complete the operation step by step.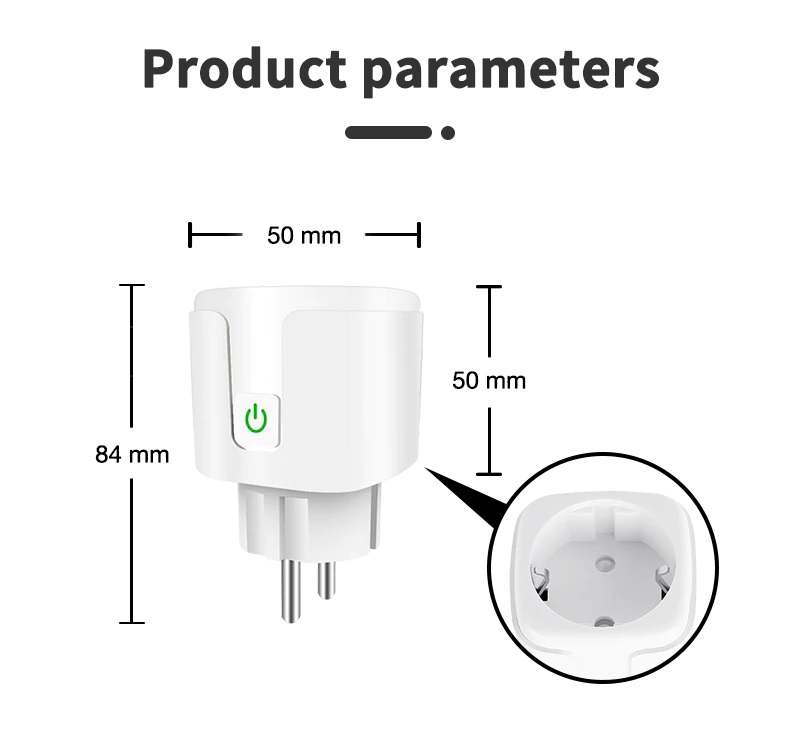 Design for your intelligent life

– Wi fi dual mode
– Input voltage: 100-240V
– Output current: 20A
– Standby power: 1W
– load: 4400W
– Housing: ABS PC fireproof material
– Certification: FCC/ROSH
– Working humidity: <80%
– Working temperature: -20 ° C – 50 ° C
– Wifi distance: 50 meters outdoors, indoors up to 30 meters (depending on building materials and structure)
– Wifi type: 2.4GHZ 802.11b/g/n
– Network security level: WPA/WPA
You can visit our Facebook Page for more New Offers
For more related products visit us at our Website