Corsair RM Series™ RM850 — 850 Watt 80 PLUS Gold Fully CP-9020235-UK
Corsair RM Series™ RM850 — 850 Watt 80 PLUS Gold Fully CP-9020235-UK
GOLD-CERTIFIED QUIET POWER
CORSAIR RM Series Fully Modular Ultra-Low Noise Power Supplies with multiple EPS12V connectors deliver consistent 80 PLUS Gold efficient power to your PC and have all the connections needed to power today's most demanding PC upgrades.

AVAILABLE IN BLACK OR WHITE
Going for a stealthy look or modern minimalism? RM Series PSUs are available in black or white variants to fit your build style.
TUNED FOR LOW NOISE OPERATION
A 140mm rifle bearing fan with a specially calculated fan curve ensures that fan noise is kept to a minimum, even at full load.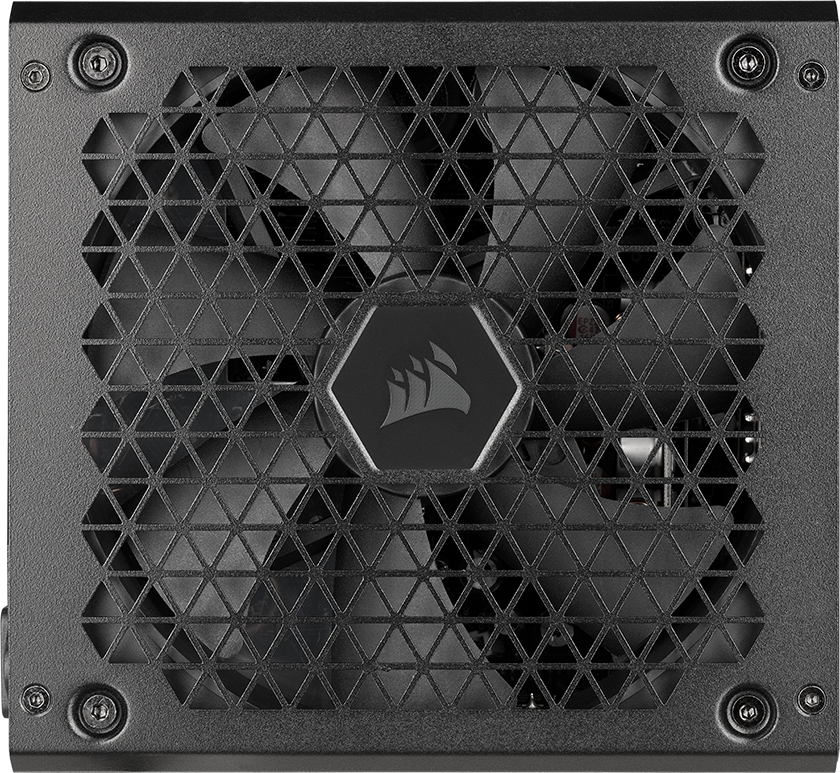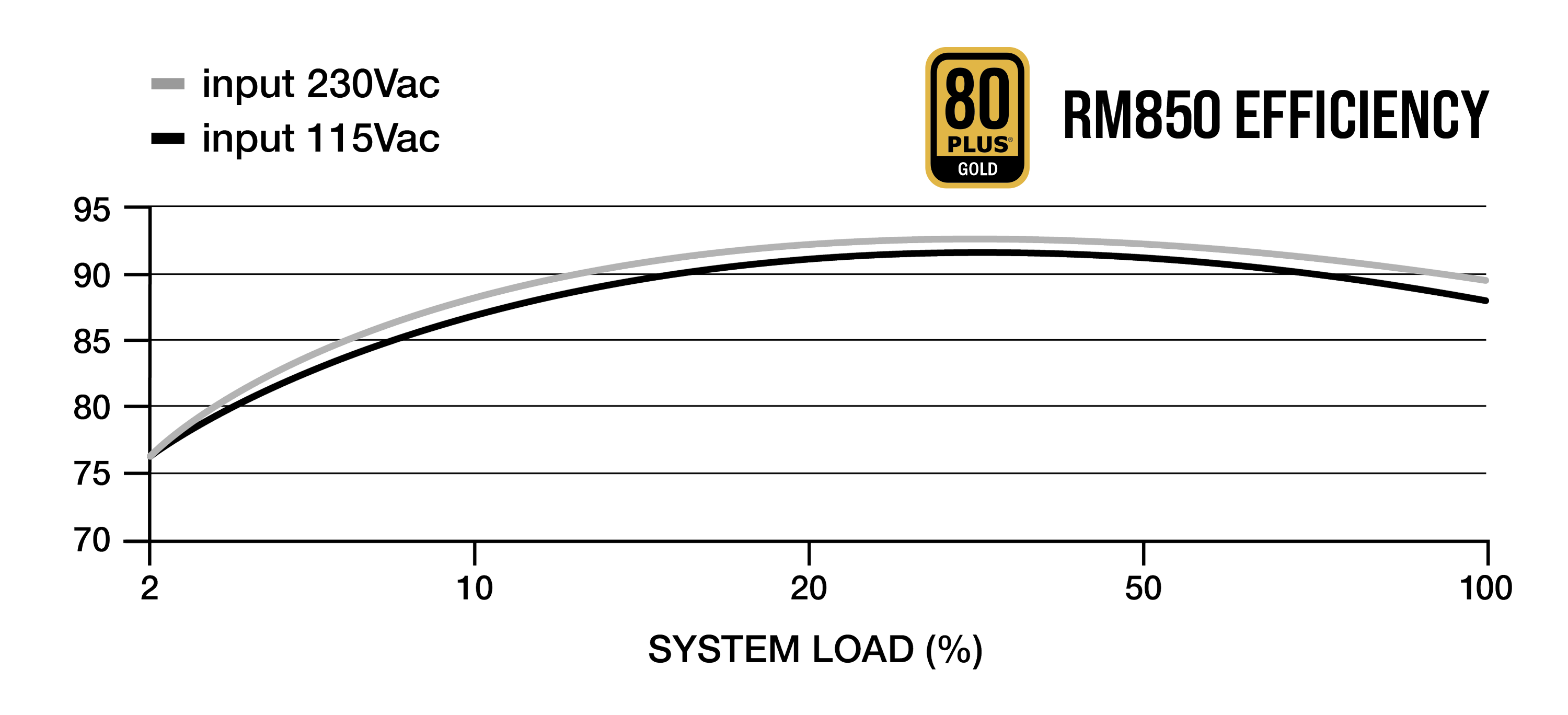 HIGH EFFICIENCY
With upwards of 90% peak efficiency, RM produces less noise and less heat, which means less time worrying and more time gaming.
FULLY MODULAR WITH MULTIPLE EPS12V CONNECTORS
Completely modular cables means you only connect the cables your system needs, and the wide range of included cables adds broad compatibility with modern graphics cards and motherboards.
Also compatible with the CORSAIR 12-pin GPU power cable for the hottest new GPUs.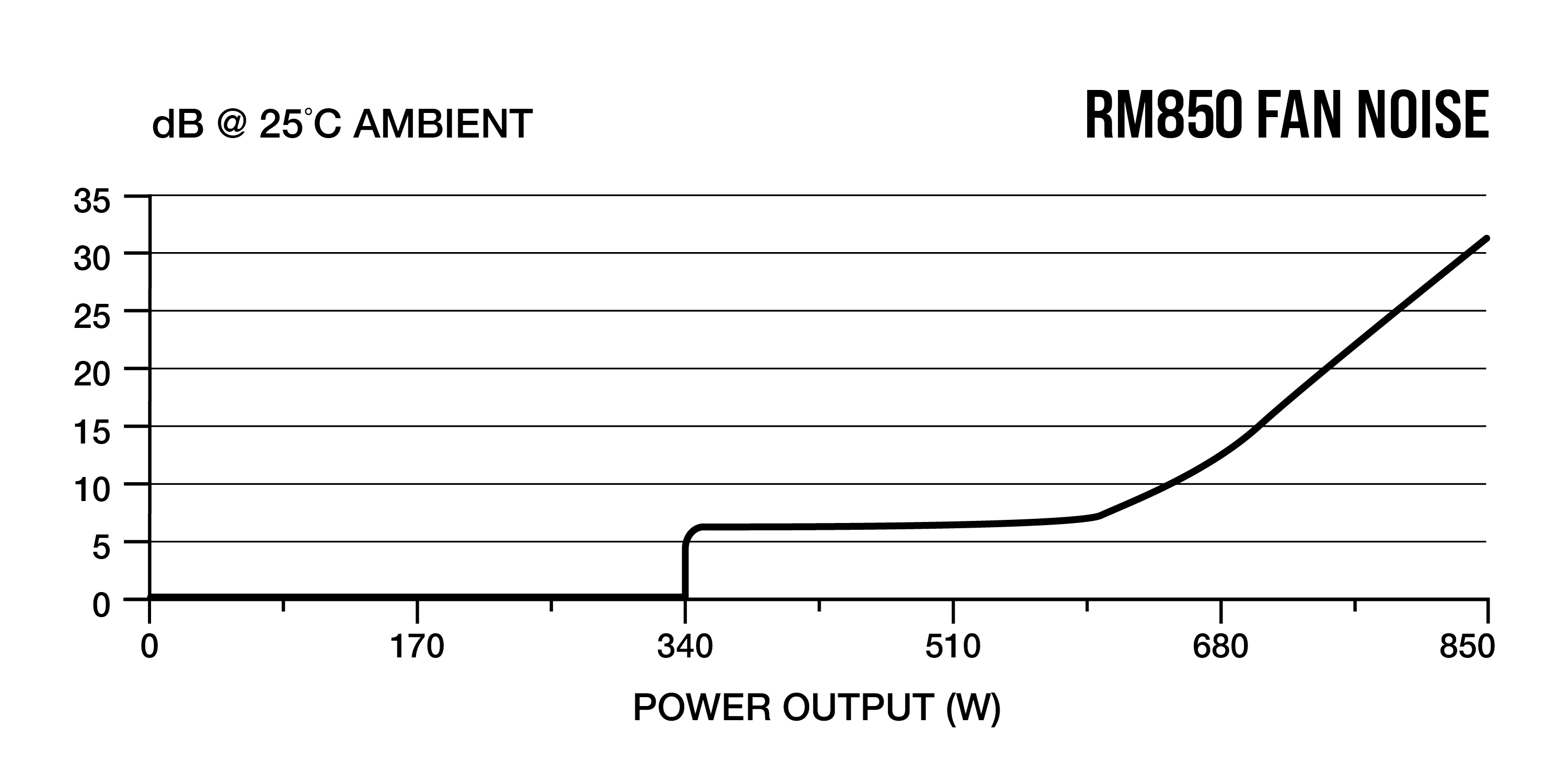 ZERO RPM FAN MODE
At low and medium loads the cooling fan switches off entirely for near-silent operation. Once the action picks up, the fan activates, ensuring critical component temps stay in check.
TECHNOLOGY AND RELIABILITY
For consistent, reliable power and superb electrical performance, each RM Series power supply features a robust resonant LLC topology with DC-DC conversion and 105°C rated industrial-grade capacitors. With precise timings, RMx supports Microsoft Modern Standby, ensuring extremely fast wake-from-sleep times and better low-load efficiency.
RM850 POWER TABLE
MODEL
RPS0120
PART NO.
CP-9020235/75-004585
AC Input Rating
AC INPUT
100–240V
INPUT CURRENT
10A-5A
FREQUENCY
47~63Hz
Max Load
Max Output
+3.3V
20A
150W
+5V
20A
+12V
70.8A
850W
-12V
0.3A
3.6W
+5VSB
3A
15W
TOTAL POWER
850W
RM850 DC CABLE LISTING
QTY
CABLE
CONNECTORS
PER CABLE
TOTAL
CONNECTORS
CONNECTOR
SPACING
TOTAL LENGTH
CABLE TYPE
CAP
1
ATX Cable 24-pin (24)

1
1
–
610mm
(± 10mm)
Sleeved
No
3
EPS/ATX12V Cable 8 pin (4+4)

1
3
–
650mm
(± 10mm)
Flat
No
4
PCIe Cable 8 Pin (6+2)

2
4
600mm, 150mm
750mm
(± 10mm)
Flat
No
2
SATA Cable (3 SATA – Right Angle)

3
6
520mm, 115mm, 115mm, 115mm
750mm
(± 10mm)
Flat
No
2
SATA Cable (4 SATA – Right Angle)

4
8
505mm, 115mm, 115mm, 115mm
850mm
(± 10mm)
Flat
No
1
PATA CABLE (4-PIN)

4
4
450mm, 100mm, 100mm, 100mm
750mm
(± 10mm)
Flat
No
SPECs.
Continuous power W : 850 Watts
MTBF hours : 100,000 hours
80 PLUS Efficiency : Gold