Anker eufy HomeVac H11 Pure [ T2520z31 ]
(Cordless Handheld Vacuum Cleaner // Ultra-Lightweight 0.59kg // 5500Pa Suction Power // Ozone Purification // USB Charging // For Home Cleaning)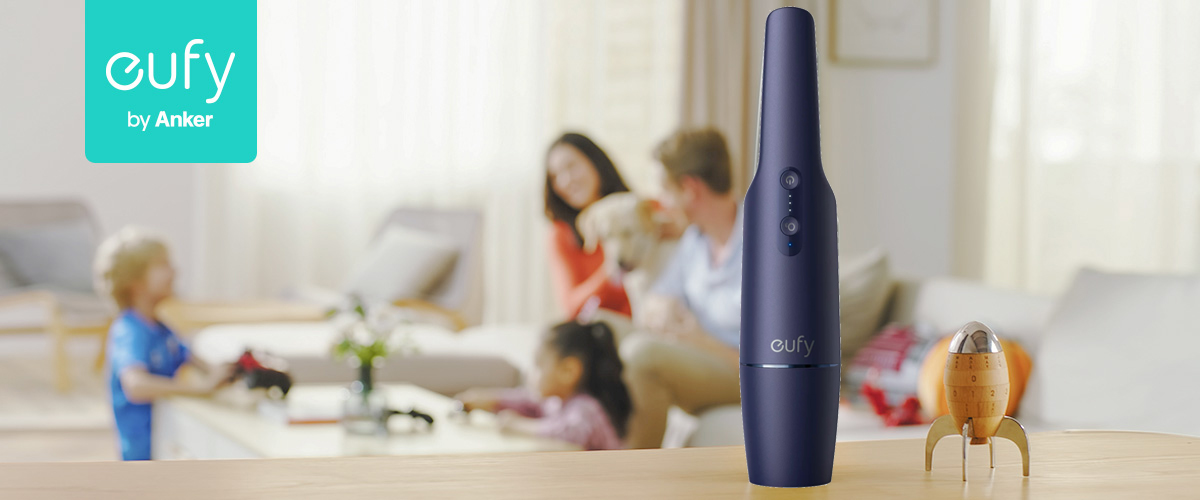 ▶ Move with Freedom, Clean with Style: HomeVac offers sleek yet practical solutions for your everyday cleaning needs. Each lightweight and cordless vacuum is built for efficiency and mobility. The critically acclaimed designs ensure HomeVac fits seamlessly into any room.
▶ Ideal for Everyday Mess: Weighs just 0.59kg but packs a punch! Quickly grab and tackle an accidental mess using the 5500Pa suction power.
▶ Ozone Air Purification The built-in Ozone air purifier allows you to take your cleaning to the next level. Simply place it in your closet or in small areas and freshen up the environment. While using the Ozone function please ensure that no people or pets are within the immediate vicinity.
▶ Convenient Charging and Suction that Lasts: Simply use a USB charger anywhere in your home and charge with ease. Enjoy up to 13 minutes of max suction cleaning time or 15 air purification sessions from a full charge. Ensure HomeVac is placed in a stable upright position and is on a flat surface while charging or in storage.
▶ Simple Maintenance, Efficient Cleaning: The washable high-efficiency filter ensures minimal maintenance and improved performance.
▶ Designed for Comfort and Control: The sleek, non-slip design allows for comfortable and precise handling.
▶ Suitable for Delicate Surfaces: Use the brush on the 2-in-1 crevice tool when a softer touch is required.
▶ Hard-to-Reach Crumbs: Use the extension nozzle on the 2-in-1 crevice tool to reach into the deepest corners of your sofa or under low-lying furniture.
▶ Pet Hair to Breadcrumbs: Suck up hair and everyday mess using the default nozzle.
Specifications
▶ Features
Cordless
▶ Brand
eufy
▶ Recommended Surface
Multi-Surface
▶ Color
Blue
▶ Model
T2520z31
▶ Manufacturer
Anker
▶ Color Category
Gray, Blue, Multicolor
▶ Manufacturer Part Number
T2520z31
▶ Assembled Product Dimensions (L x W x H)
14.96 x 5.98 x 3.70 Inches
For More Info. Click Here
For More Anker Product Click Here