Anker Soundcore Wakey Bluetooth Speaker Black A3300311
Features of Anker Soundcore Wakey Black
Hassle-free wireless fast charging: Built-in wireless charger Powered by Anker technology. Charge Qi-compatible devices at up to 10W for Samsung S10, S10+, S9, S9+, S8, S8+, and note 9 and 7. 5W for iPhone 11, XR, XS Max, XS, x, and 8 Plus.

Comfort in sound: easily Pre-Set your favorite FM radio stations or connect your device via Bluetooth or aux cable. Audio is delivered via full-range stereo drivers.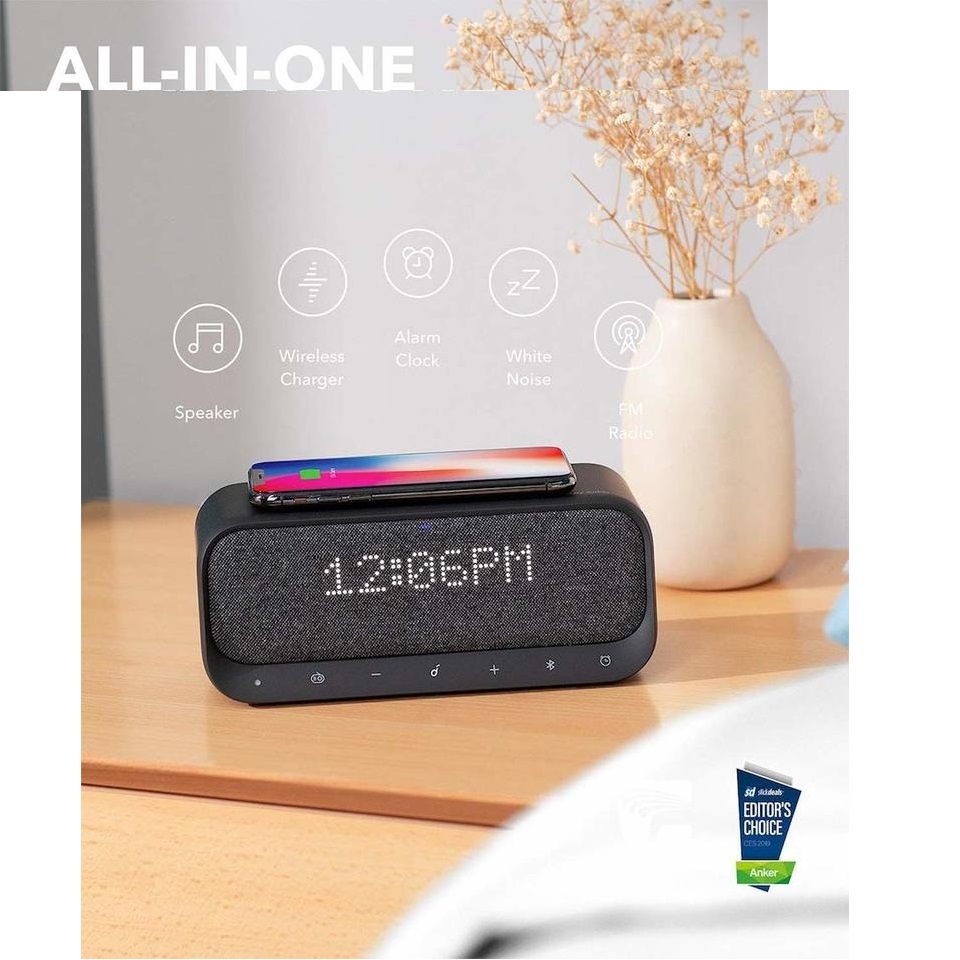 Wakey, rise and shine: choose from 10 different sounds, including the FM radio, to set up to 15 individual alarms.

Goodnight, Sleep tight: choose from 10 sleep-inducing ambient sounds or compose your own soothing soundscape using the sound core app. The LED display automatically dims in low light and can be adjusted or turned off using the app.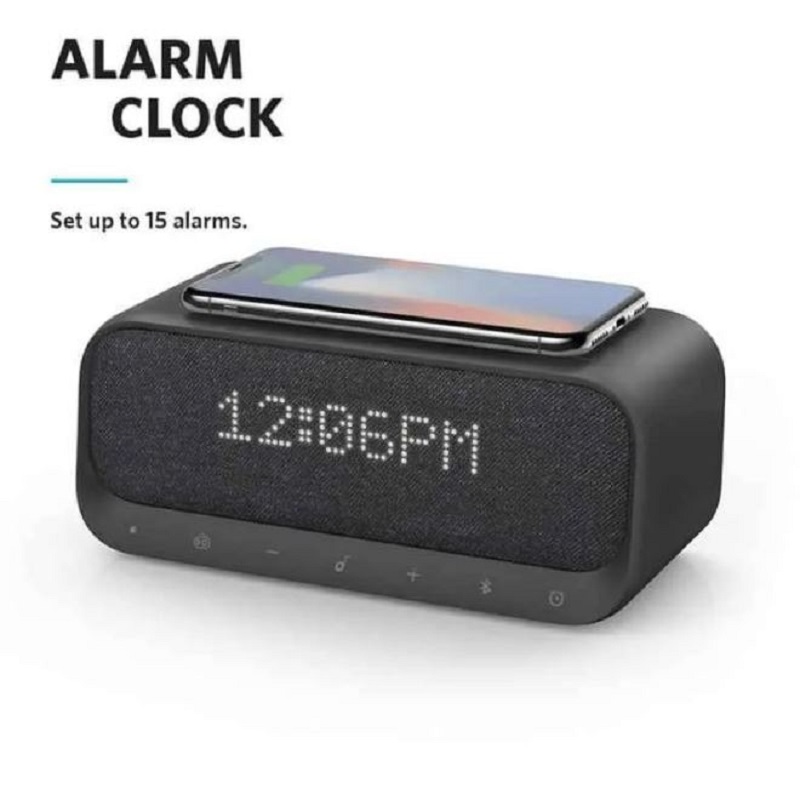 In Harmony with You: Instantly synchronize Wakey using the Sound core app, or use the built-in touch bar for fast access. Wakey's innovative design was awarded a 2018 Golden Pin Design Award.

Power Source Type: Corded Electric
Soundcore Wakey
Wakey simplifies your nightstand set – up by combining everything you need for a peaceful night's sleep and a refreshing morning into one compact bedside speaker.
Fast-Wireless Charging

Stereo Speaker

Alarm Clock

White Noise Generator

FM Radio
Charge Multiple Devices
In addition to Wakey's wireless charger, there are an extra two USB ports concealed on the back to charge more devices.
Sync to Your Phone
The time can be displayed in either the 12-hour or 24-hour clock, as it automatically syncs to the time set on your phone. When using the 24-hour clock, the time will be off-set on the LED display.
Bluetooth 5
Connect your device to Wakey using the ultra-stable Bluetooth connection for skip-free streaming of music, podcasts, and more.
Soundcore | Hear It. Feel It.
Model number: A3300
A Brand Under Anker Innovations
Clutter-Free Bedside
Remove messy cables from your nightstand and place your Qi-compatible phone on top of Wakey for fast wireless charging. The Anker-powered charger delivers 10W fast-charging for Samsung S10, S10+, S9, S9+, S8, S8+, and Note 9 and 7.5W for iPhone XR, XS Max, XS, X, and 8 Plus.
Soundtrack Your Morning
Wakey's dual drivers fuel perfectly-balanced 10W sound. Stream music and podcasts using Bluetooth, or save up to 10 FM radio stations using the Soundcore app.
Get Out of Bed Sleepyhead!
Use the Soundcore app to set up to 15 unique alarms and choose from 10 unique alarm tones—including FM radio.
Sweet Dreams
Use the white noise mode on the Soundcore app to select from 10 different sounds, or curate your own personalized soundscape using a mixture of your favorites. Set the timer and effortlessly slip into a blissful slumber, aided by sleep-inducing sounds.
Intuitive Controls
The touch bar allows you to turn on the Bluetooth connection, FM radio, increase or decrease volume, and snooze the alarm. It also features a built-in sensor that adjusts the brightness of the LED screen. As your room darkens the display dims and as the sun rises it brightens again.
In Perfect Harmony
Smooth, matte finish with a minimalist fabric covering over the front display. The curved edges allow Wakey to sit seamlessly as part of your bedroom's décor.
What You Get
Soundcore Wakey, adapter, FM Radio antenna, welcome guide , and our friendly service.
Note: When using wireless charging, remove the case and place your phone on the center of Wakey for the fastest possible charge.
For more information about Anker Soundcore Wakey Black visit official website of anker
For more related products visit Us at Our website