Wired Professional Dynamic Microphone K-1300
Moreover about Wired Dynamic Microphone K-1300
A great choice for vocal performance, suitable for karaoke, family entertainment, outdoor show, conference, and other occasions.

Professional dynamic microphone, effectively enhances the main sound source, clearer and louder sound.

Made of tough and high – quality zinc alloy material, reliable and durable to use.
Now you can plug your Microphone to Sing your Favorite music and talk with your colleague using the Big bass speaker and this Wired Dynamic Microphone K-1300.
Large – diaphragm condenser microphones are an excellent choice for studio recording; they offer high sensitivity and can pick up more sound energy. Vocals sound fuller and warmer thanks to their wide frequency response.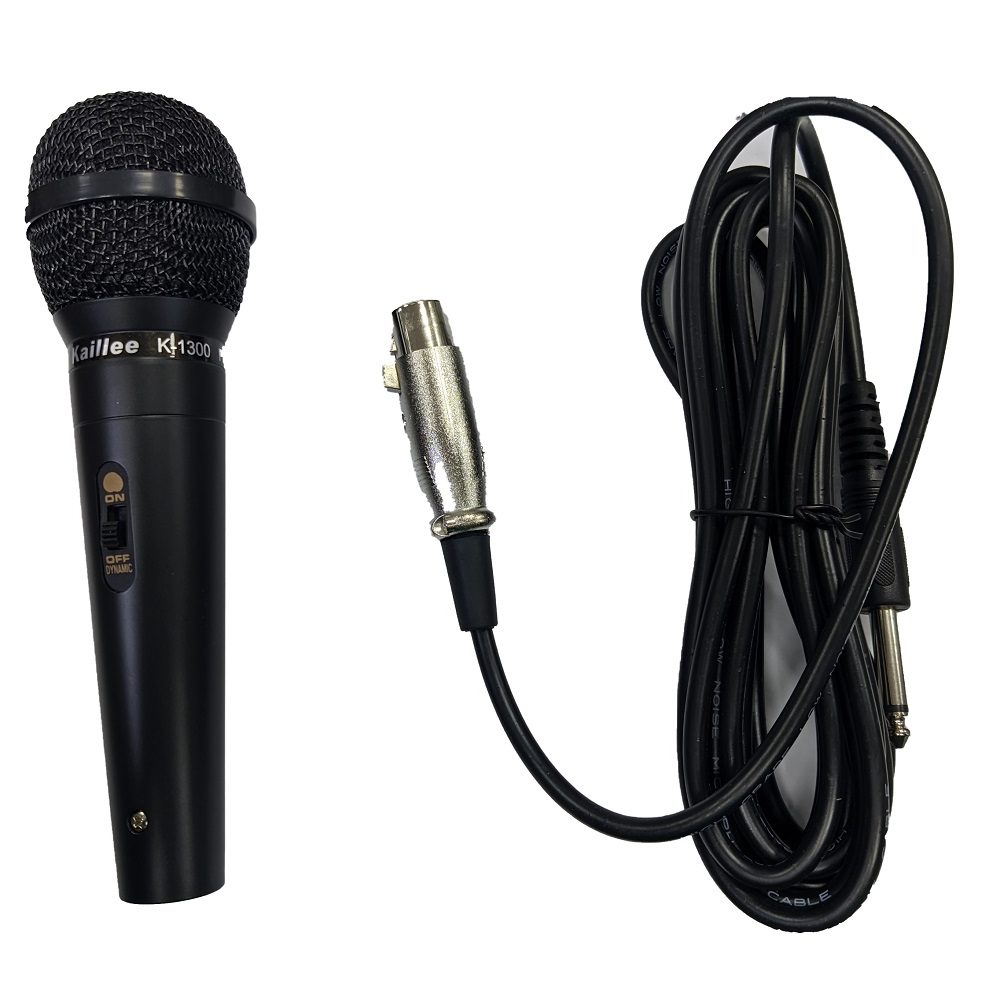 When used to mike acoustic instruments, the results are excellent because they can deliver vibrant and rich sound.
This type of mic is not recommended for live situations. Still, if you have the experience of adequately placing and equalizing the sound, good results are possible.
General Features of Dynamic Microphone
Durable and Rugged
The general perception of dynamic microphones is that they are more rugged and durable. The robust dynamic microphone includes durable and heavier components that can withstand a tremendous amount of abuse. Also, it is resistant to drops, which is why live performers prefer them over the other types.
It does not deteriorate over the years, either. In fact, you can have 5 dynamic mics in various states of ruin without them sounding any different. At the same time, they are heavier, which means they tend to hit the floor harder. All in all, they can outlast any other type of microphone.
K-1300 Do Not Need a Power Supply
Most dynamic microphones do not need an external power supply to convert sound waves into electronic signals. There are some exceptions such as active dynamic mics that do need an external power source. Other types such as condenser mics need a source to charge the electrodes and the membrane.
Can Pick Up Less Noise
With other types of mics, you may hear excessive noise in the background. This is especially true for amateur podcasters who often record in their rooms where various noises often intrude. Dynamic mics are somewhat less sensitive to noise, so they only pick your vocals without any of the unnecessary background noise.
Package List:
1- 1 * Microphone
2- 1 * Audio Cable
3- 1 * User Manual
You can visit our Facebook Page for more New Offers
For more related products visit us at our website