Remax RP U42 Single USB 2.1A Charger
Features of  Remax RP U42 Charger .
1- Battery Protection
Battery protection ICs typically use MOSFETs to switch lithium cells in and out of circuit. Lithium cells of the same age and part number can be paralleled and share one protection circuit.
2- Stable Current
it's make your phone charge with constant current which make the charge operation more saver to your device
3- High Temperature Protection
No hot or High Temperature while using this Charger in long and in short time .
4- Overvoltage Protection
Quite Voltage that it's Up to 10W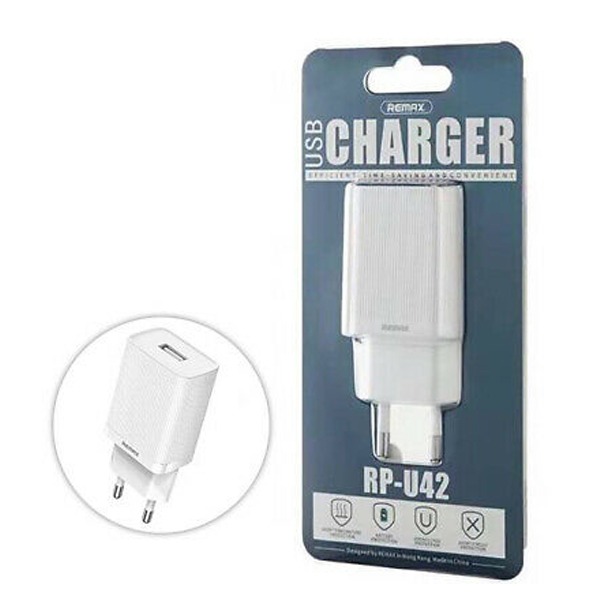 5-Short Circuit Protection
it's will make the Plug charge your Battery with no Danger if there's a Short Circuit situation .
6- Overcharge Protection
if the Battery Refill ( Full Recharged ) no need to take care while remove it quickly , the plug will stop Charge your Device Automatically .
 Specification
Wight: 29.7g
Color: White
Material: ABS
Service life: 25.000 hours
Storage Temperature: 25 +60C
Working Temperature 0-40C
Tolerance to humidity: (95 + or – 3)
Output : DC5V 2.1A ( Max ).
Input: AC100-240v – 50/60Hz 0.3A
This product come with EU Plug .
You can visit Our Facebook Page for more New Offers
For more related products visit Us at our website