Razer Kraken V3 HyperSense Wired USB Gaming Headset [ RZ04-03770100-R3M1 ]
Most features
Razer™ TriForce Titanium 50mm Drivers
THX Spatial Audio
Razer HyperSense
Powered by Razer Chroma RGB
CONNECTION TYPE: USB-A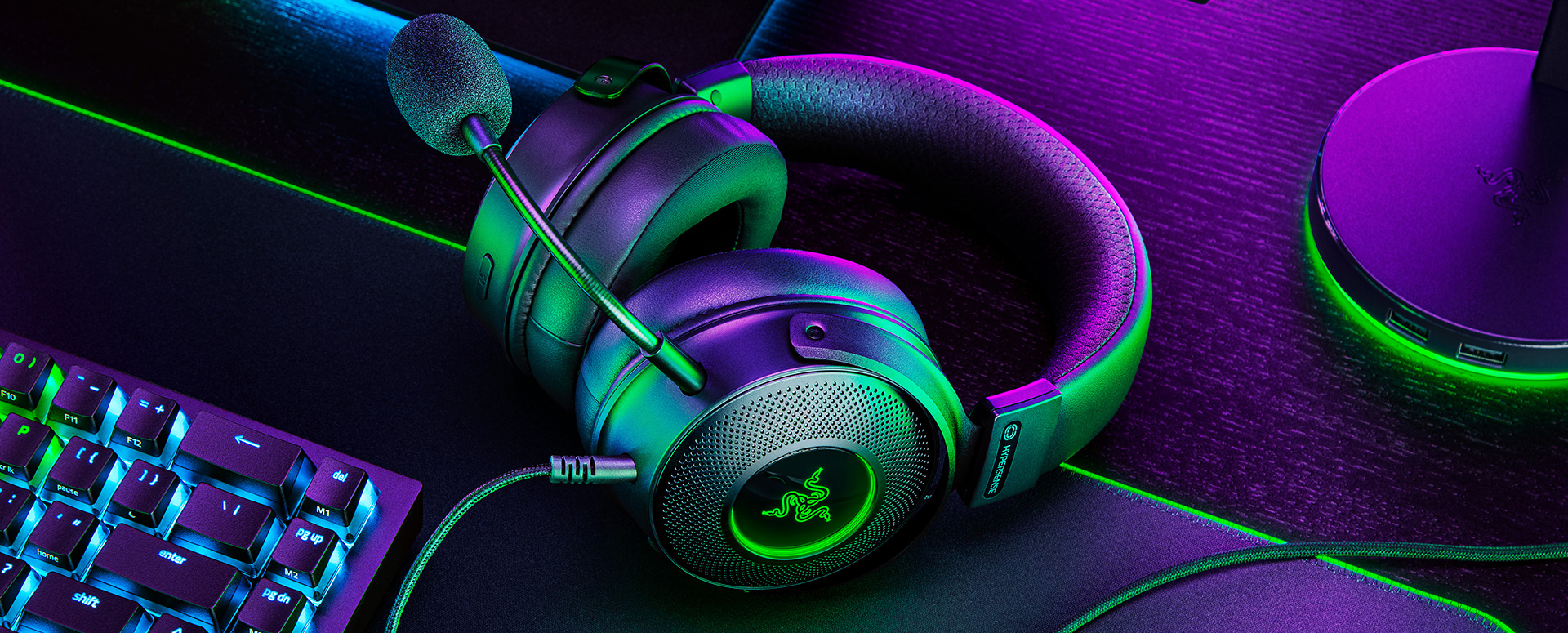 THE DEEPEST IMMERSION.
Dive into a new dimension of immersion with the Razer Kraken V3 HyperSense—a PC gaming headset powered by haptic technology. From rumbling explosions to whizzing bullets, with the ability to feel what you hear, the time has come to embrace true multi-sensory gaming.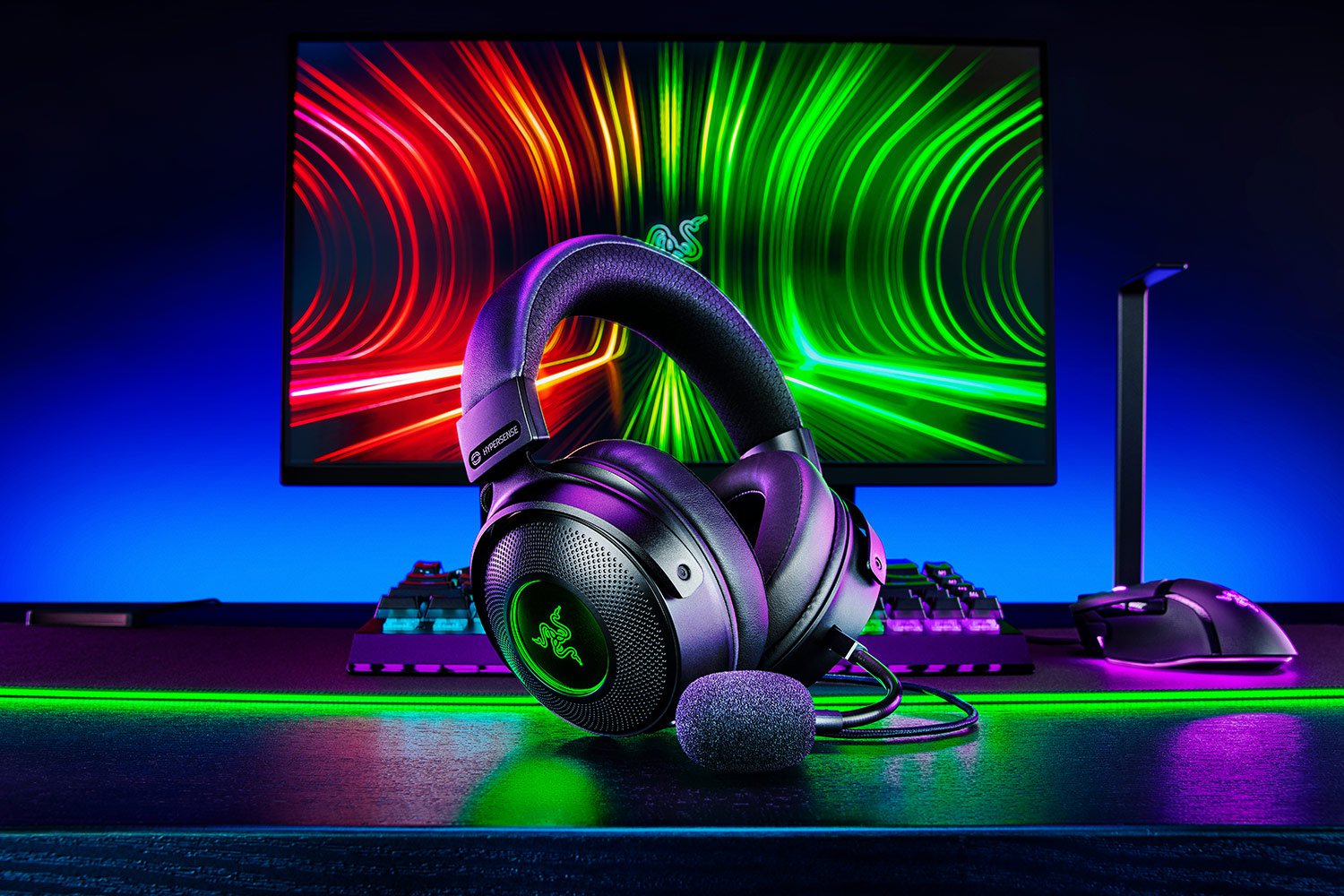 RAZER™ HYPERSENSE.
Cutting-edge haptic drivers in each earcup pick up on audio cues and convert them into realistic vibrations that vary in position, duration, and intensity, providing touch-sensory feedback for in-game sounds.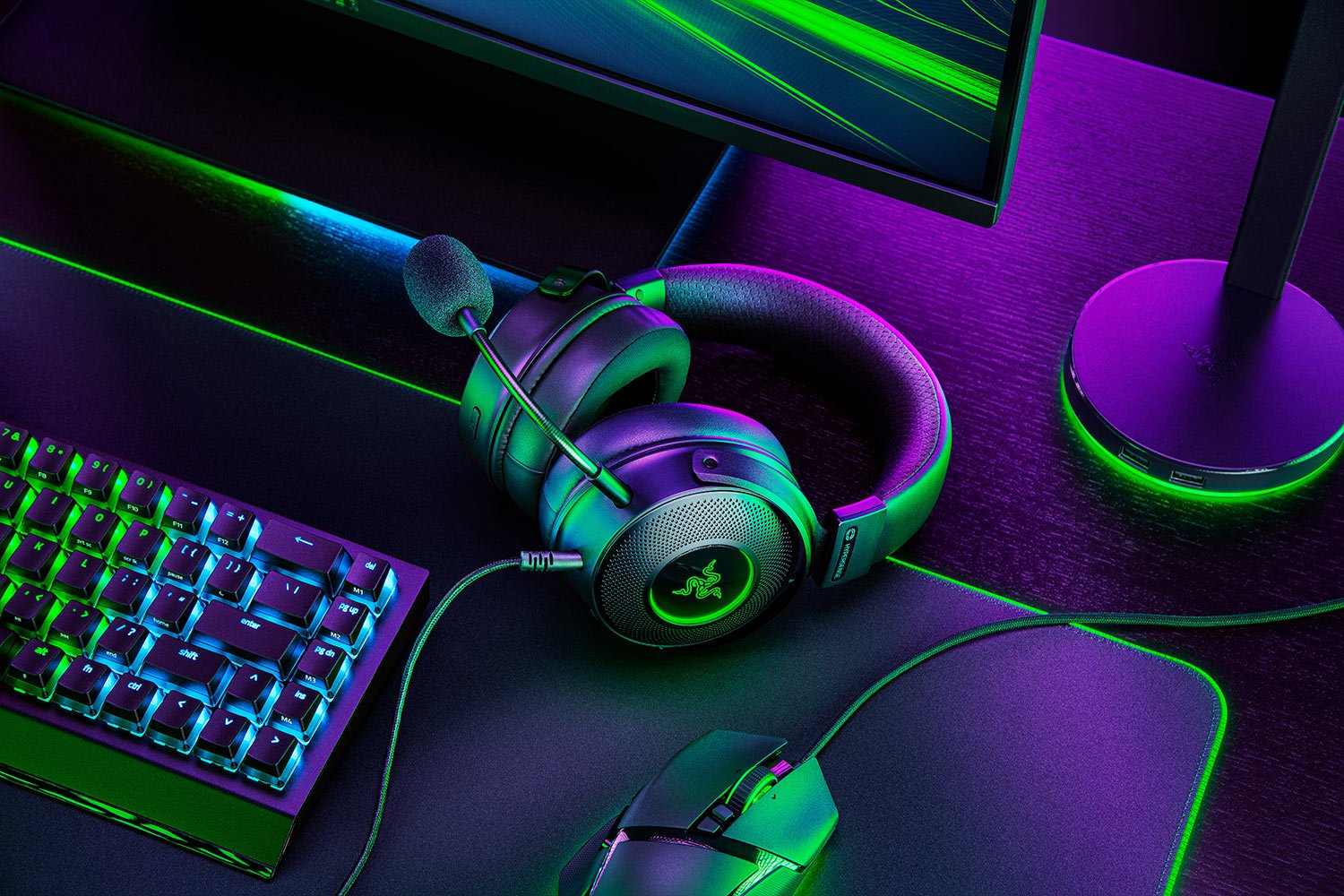 THX SPATIAL AUDIO.
The headset is armed with advanced 7.1 surround sound that optimizes your game's sound design for realistic positional audio. Experience true-to-life acoustics and hear everything as if you were right in the middle of it all.
RAZER™ TRIFORCE TITANIUM 50MM DRIVERS.
Our patented 3-part driver design pushes out exceptional highs, mids, and lows that doesn't muddy, providing a more dynamic listening experience for deeper immersion. Upgraded with titanium-coated diaphragms for superior clarity, the drivers enable truly lifelike and accurate sound reproduction.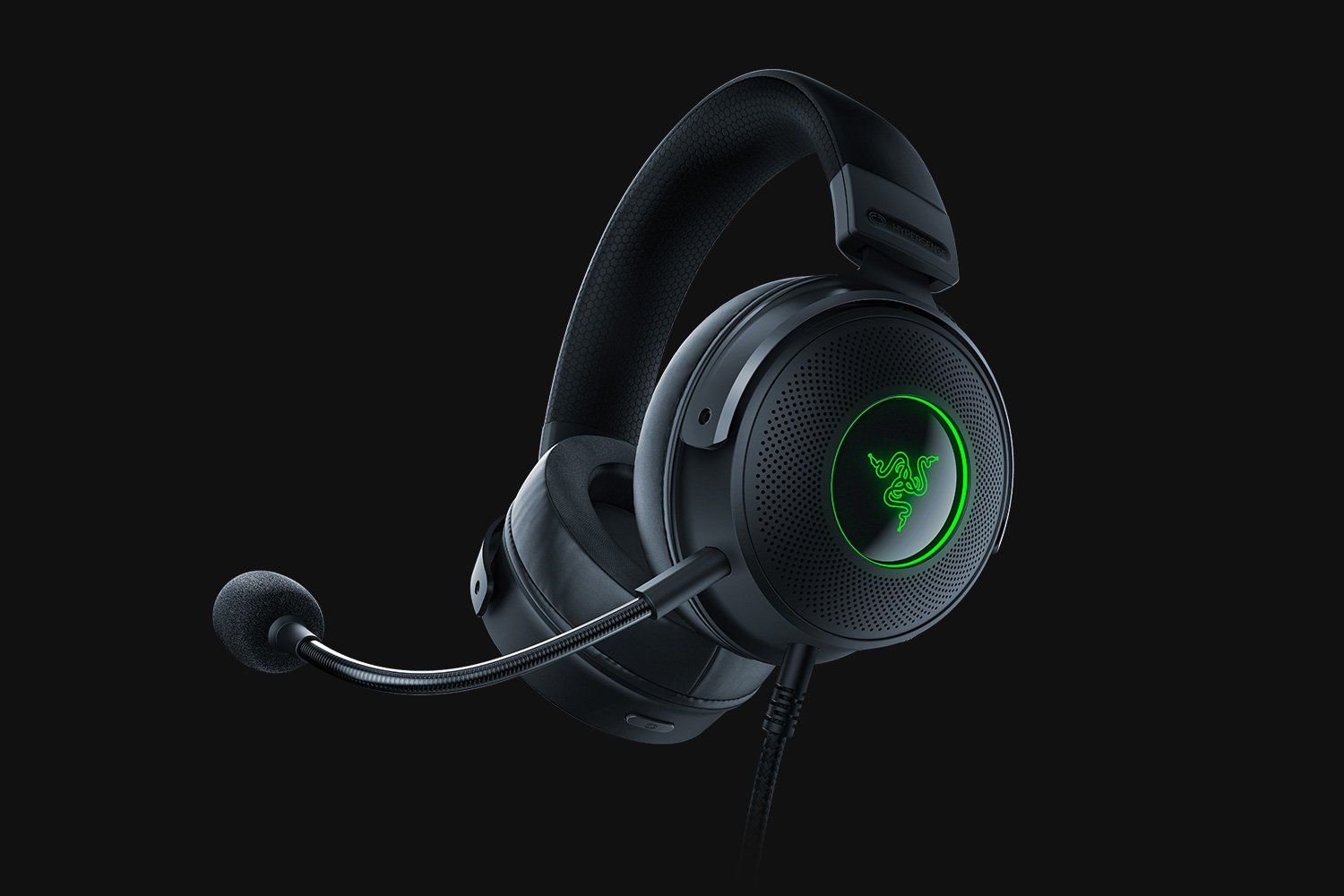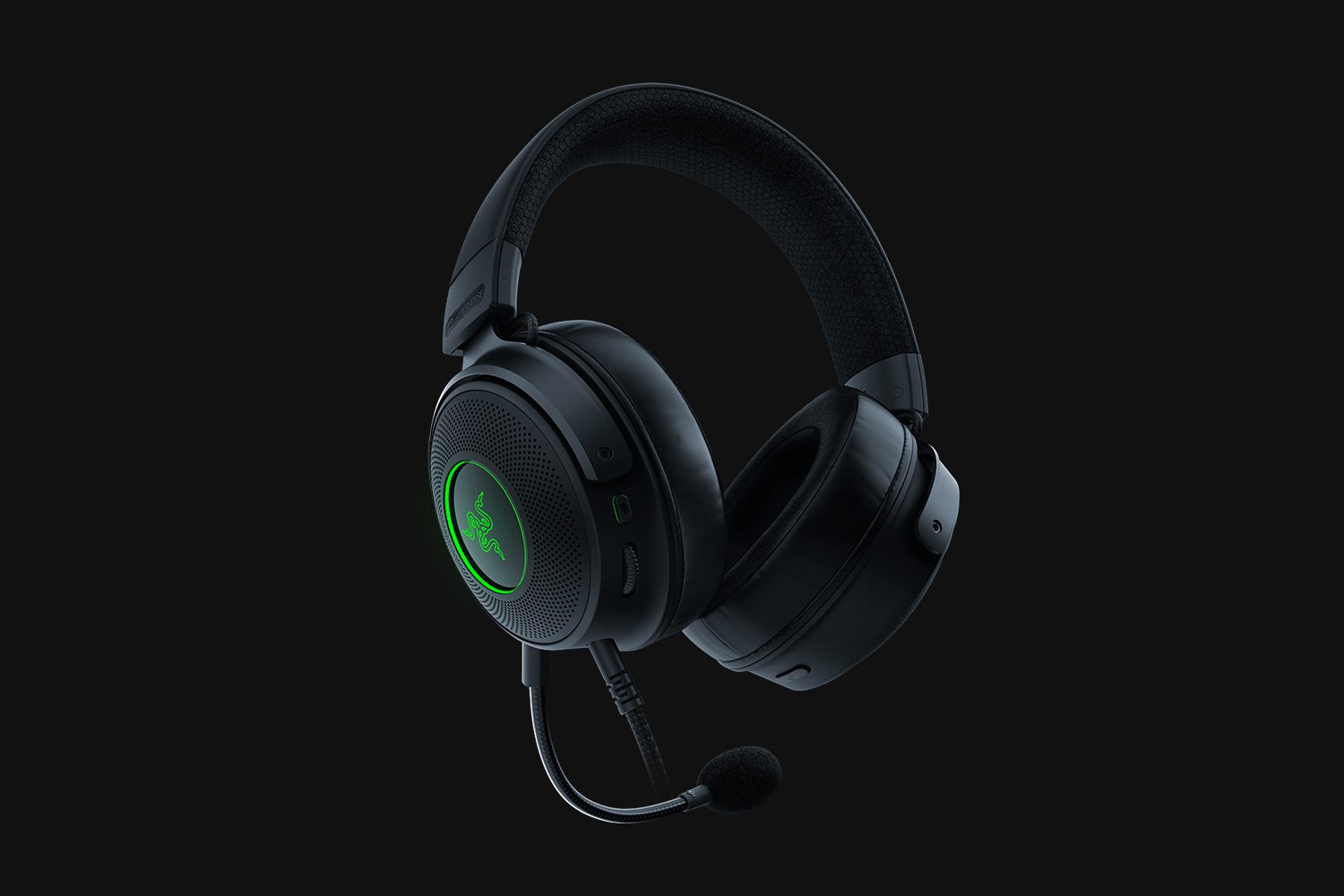 Specifications
FREQUENCY RESPONSE:
20 Hz – 20 kHz
IMPEDANCE:
32 Ω (1 kHz)
SENSITIVITY:
96 dB (1 kHz)
DRIVER SIZE – DIAMETERS (MM):
50 mm
DRIVER TYPE:
Razer™ TriForce Titanium
EARCUPS:
Oval Ear Cushions
INNER EARCUP DIAMETER:
Width: 42 mm / 1.65″
Length: 62 mm / 2.44″
EARPADS MATERIAL:
Heat-Transfer Fabric / Leatherette / Memory Foam
NOISE CANCELLING:
Passive noise cancellation
CONNECTION TYPE:
USB-A
CABLE LENGTH:
2.0 m / 6.74 ft
APPROXIMATE WEIGHT:
344 g / 0.75 lbs
MICROPHONE STYLE:
Detachable HyperClear Cardioid
PICK-UP PATTERN:
Unidirectional
MICROPHONE FREQUENCY RESPONSE:
100 Hz – 10 kHz
MICROPHONE SENSITIVITY (@1KHZ):
-42 ± 3 dB
VIRTUAL SURROUND ENCODING:
THX Spatial Audio
VOLUME CONTROL:
Volume up and down
OTHER CONTROLS:
Mic mute on / off toggle
Haptics Adjuster – Off, Low, Medium (Default), High
BATTERY LIFE:
None
LIGHTING:
Razer Chroma RGB
COMPATIBILITY:
PC
PlayStation
Nintendo Switch (docked mode)