PORT DESIGNS GO LED 15.6″ BACKPACK with Wireless Remote 202330
PORT DESIGNS GO LED 15.6″ BACKPACK with Wireless Remote 202330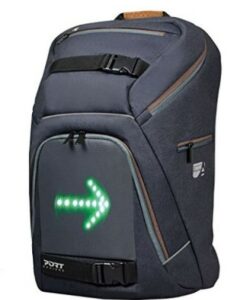 FEATURES
GO LED is a revolutionary backpack with an integrated indicator light display. Made for mobility and commuting, GO LED
the backpack has a flashing LED panel increasing visibility during journeys, sports activities or leisure trips.
Developed for cyclists, joggers, skaters, and even scooters and roller use, it brings an increased security and visibility day
and night thanks to the flashing LED panel and its light reflective bands. The LED system can display 4 extra visible navigation
signs (left turn, forward, right turn, stop/danger) to inform of direction changes. The LED panel is controlled by a
wireless remote control that can be placed on a handlebar or in the dedicated shoulder strap pocket.
GO LED has a wide capacity of 35 liters for an ultra-lightweight of only 1 kilo. It has all the features of a contemporary
backpack with padded laptop and tablet compartments to keep electronic devices safe and various useful pockets. It
also has a translucent rain cover protecting the backpack and its content in case of heavy rain and letting LED light flash through.
---
Other specifications
• Integrated indicator light
LED System
• Intuitive wireless remote control • Translucent rain cover
• 360° visibility light-reflective bands
• MP3 / Phone pocket with
cable eyelet
• 15,6'' laptop & 9/10'' tablet
compartments
• Padded shoulder straps and
back with Air Flow system
• Helmet fixation straps