Notebook CoolerPad Fan *1 \ V19
Fashion and unique design , comfortable feeling , hold you and your notebook in an safe and comfortable situation.
Special air flow Outlet design , keeping your notebook cool during situation , and can be worked on lap or on bed.
Big metal mesh surface with One silent fan diameter 14mm make the heat dissipation perfect.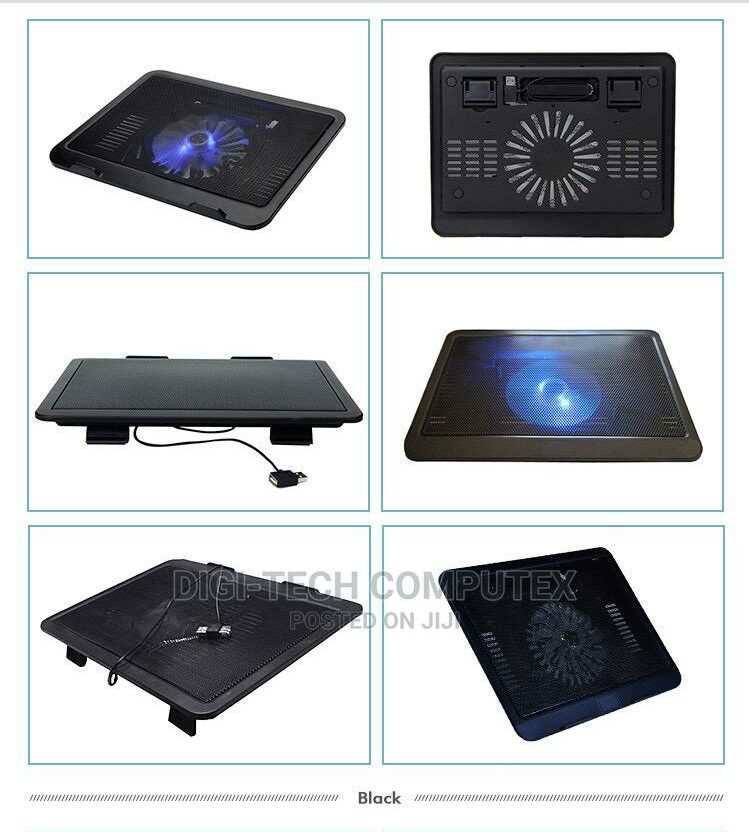 Adjustable feet provide multiple-angle height adjustable for a perfect typing and viewing angle.
Compatible with majority of notebook.
Come with small size for 14 Inch Laptops
Specification
Product Dimension : 335*250*30mm
Fan dimension : 140*140*15mm
Fan Speed (Adjustable) : 750-1500RPM
Air Flow : 23-44CFM
Air pressure : 0.45-1.35mmH20
Fan Noise : 1DBA(Min)
Current : 0.4A(MAX)
Voltage : 5V DC
Power input : 1.5W
Net weight : 0.5Kg
Notebook CoolerPad Fan *1 \ V19 is an elevated platform designed to be placed underneath your laptop computer to assist with cooling the computer in high-use time periods. The goal of a laptop cooling pad is to reduce the operating temperature of the laptop. The way these cooling pads work is by providing either active or passive cooling support. Typically "active" laptop cooling pads use built-in fans to provide this cooling functionality and move air away from the laptop, while passive laptop cooling pads either passively move air away from the computer or use thermally conductive materials to passively protect the device. But the features don't always end there. Some have different fan speeds to choose from, built-in USB hubs, and more.
Benefits of Laptop Cooling Pads
There are several benefits of using laptop cooling pads for your computer:
Lower Temperature
The first and most obvious benefit of using laptop cooling pads is that they can help your computer achieve a lower temperature, and, as a result, stave off overheating (which can be detrimental, if not fatal, for laptops).
Greater Physical Comfort
We all know the feeling of a warm (or maybe even a hot) laptop on your lap. It's not always the most comfortable thing in the world. Whether the laptop is on your lap, on a desk or table, a cooling pad can help regulate the temperature of your work area and keep you more physically comfortable. And when you're more physically comfortable, you can be more productive! Another way that laptop cooling pads may induce greater physical comfort while working is through the added height they can provide to your work setup. You can reduce neck strain and gain a steadier working surface with the addition of a laptop cooling pad.
Easy to Use
Another benefit of laptop cooling pads is simply that they're easy to use. The setup is minimal, and there's no learning curve for how to operate them; simply place the pad under your computer, turn on if needed, and you are good to go.
More Amenities
Many laptop cooling pads also offer benefits like additional USB ports, which can be helpful if you're trying to connect your computer to multiple external devices.
visit us at our Facebook Page for more new offers
For more related Products visit us at our website