Navigator ECO-Logical White Paper 75g.m 500 Sheets A4
More about Navigator ECO-Logical 75g.m
The ecological choice

Uses fewer natural resources whilst guaranteeing a premium quality performance.

Give a tree your name

Your customer can give their name to one of the several million trees grown every year in our forest nurseries.

100% Satisfaction

High quality, cost efficient, office paper backed by a Product Replacement Guarantee.
A high white paper with a high bulk content, this 75gsm paper feels and performs like a heavier weight paper yet uses fewer natural resources than the equivalent 80gsm paper. Produced using pulp from well managed forests, this A4 paper is perfect for use in laser printing, inkjet printing and copying and is supplied in a pack of 500 sheets.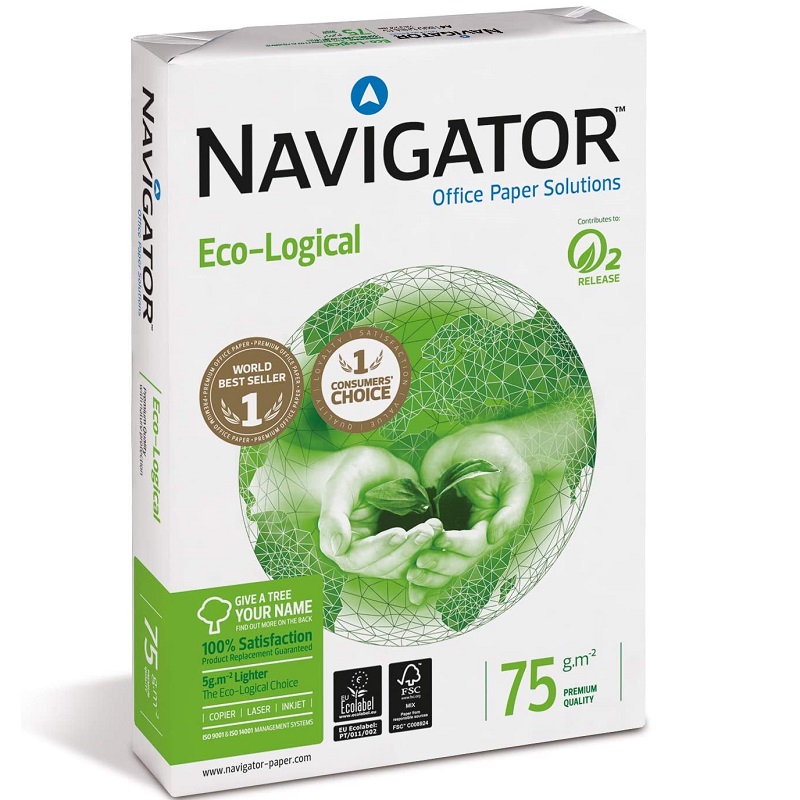 Specification
Category Plain Paper
Manufacturer The Navigator Company
Bright white high quality office paper
Produced from responsibly managed forests
Performs like a heavier paper but uses fewer natural resources
Suitable for use in laser printing, inkjet printing and copying
Weight: 75gsm
Color: White
Size: A4
THE 75 G.M-2 IS A RANGE OF LIGHTER AND STRONG PAPER, PERFECT FOR EVERYDAY USAGE.
Multi Office paper is the right choice for those moments when you need everything to run smoothly and go perfectly as planned.
With its high performance and reliability, Multi Office offers perfect definition, even in color, with no curling or jamming in the printer, saving you time, money and stress.
Switch to a more ecologically responsible choice and help to save the planet. Less pulp is used to produce this quality yet lighter weight product, leading to a significant reduction in production processes and less of an environmental footprint. When you buy this Eco-Logical paper you can also plant and name a tree when you enter the code found on your ream here.
---
General Information About Paper Weight.
Understanding paper weight is not common sense and may be a bit confusing. That's why OKI has provided this resource for those who need a general guide on how to choose the right paper for their specific printing needs. Below you will learn about the most common methods used to understand paper weight, tools to help determine and distinguish between the various print media types and lastly, you will find a paper weight conversion chart that provides a clear comparison of common media weights.
Paper weight is an important component to consider when printing. Heavier media often conveys quality and provides durability. Unfortunately, sorting through the various methods of labeling a paper's weight is not always straightforward. First, there are three common methods for specifying paper weight and thickness: U.S. Basis Weight (Bond, Book, Index, Cover, Tag, Points, Offset ), Metric weight (GSM or G/m2) and, often interchangeable, Points or Mils (an actual Caliper reading of the paper thickness).
Of all the materials that have been used through the ages, paper has become the most widely employed around the world. In fact, the United States alone uses about 70 million tons of it each year1! But could you differentiate between the countless types, thicknesses and weights of copier paper versus cardstock paper? Probably not.
Feel free to bookmark this page as a reference!
The U.S. Basis (not basic) Weights, are the most confusing, simply because the same paper can yield different values based on the "Basis Weight" applied while manufacturing the paper. And higher values don't always equate to heavier/thicker print media. For example, a sheet of 100lb Text paper is actually much thinner than an 80lb Cover stock.
For more information about this product visit official website of Navigator
For more related products visit us at our website