Huntkey GS500C Computer Case Support ATX M-ATX ITX Motherboard Water Cooling Air Cooling Heat Dissipation with Acrylic Side Plate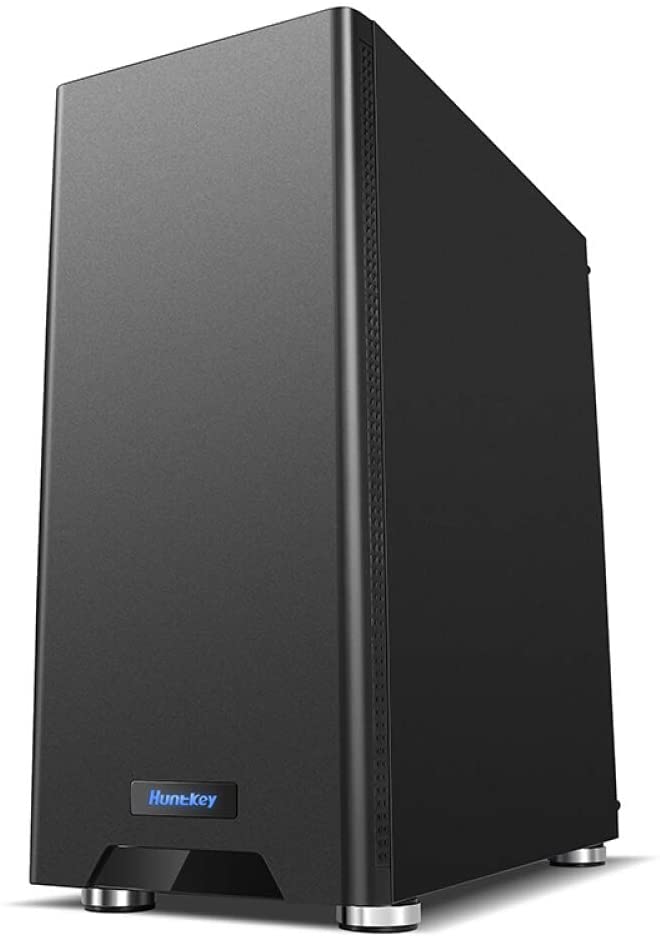 Split type design, reasonable planning of internal space of the case, no need to worry about heat accumulation problem inside the case.
Support water cooling and air cooling heat dissipation, seven 120mm cooling fan positions are reserved in the case. The three-dimensional heat dissipation design provides good cooling effect.
Acrylic fully permeable side plate, good visual effect. Tool-free design, more convenient installation.
USB3.0 interface, with 5Gbps transmission speed, for high-speed data transmission and device charging.
Magnetic suction dust-proof net design, dust-proof and ventilated, long service life.
Strong compatibility, support ATX, M-ATX and ITX type motherboards, compatible with 350mm graphics card, 160mm CPU radiator, two 3.5mm HDD or two 2.5mm SSD.
Features: Split type design, reasonable planning of internal space of the case, no need to worry about heat accumulation problem inside the case. Support water cooling and air cooling heat dissipation, seven 120mm cooling fan positions are reserved in the case. The three-dimensional heat dissipation design provides good cooling effect. Acrylic fully permeable side plate, good visual effect. Tool-free design, more convenient installation. USB 3.0 interface, with 5Gbps transmission speed, for high-speed data transmission and device charging. Magnetic suction dust-proof net design, dust-proof and ventilated, long service life. Strong compatibility, support ATX, M-ATX and ITX type motherboards, compatible with 350mm graphics card, 160mm CPU radiator, two 3.5 mm HDD or two 2.5 mm SSD.
Specification:
Model: GS500C
Color: Black
Material: 0.5 mm
SPCC Supported motherboard type: ATX, M-ATX, ITX
Supported hard disk: 2* 3.5 inch HDD or 2* 2.5 inch
SSD Supported power supply: ATX
CPU radiator height limit: 160mm
Graphics card length limit: 350mm
Expansion slot: 7
I/O panel: 2*USB 2.0, 1*USB 3.0, 1*Headphone jack, 1*Microphone jack
Air cooling heat dissipation: Front 120mm*2, rear 120mm*1. Preset 120mm*2, 120mm*2 (on the power bin)
Water cooling heat dissipation: Front 240mm hose water cooling, rear 120mm hose water cooling
Item size: 45 * 40 * 20cm / 17.72 * 15.75 * 7.87 in
Packing list: 1 * Gaming Computer Case
---
For more details about ( Huntkey GS500C Computer Case Support ATX M-ATX ITX Motherboard Water Cooling Air Cooling Heat Dissipation with Acrylic Side Plate ) :
For more huntkey products :
For more empty cases :