HP 39.62 cm ( 15.6″ ) Spectrum Sleeve ( Ladies edition ) and HP Z3700 Valentine Wireless Mouse included [ 1AT98AA ]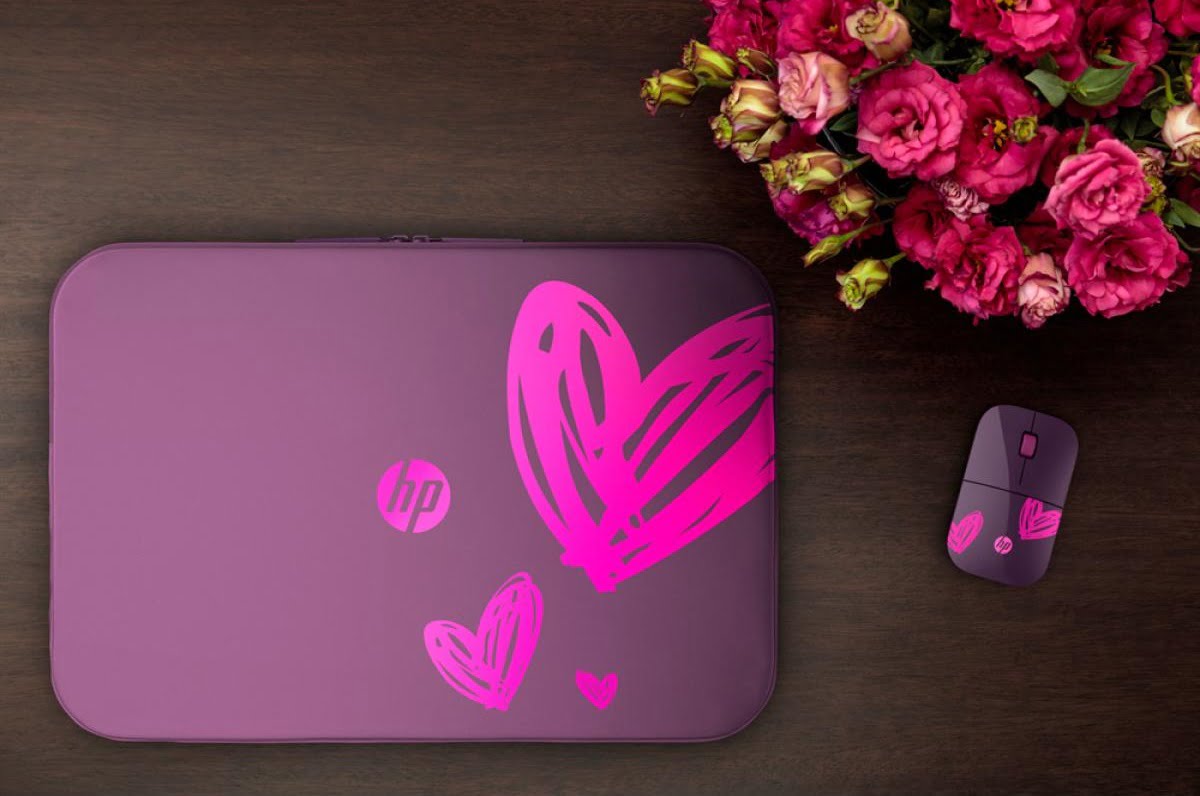 Features
Hardware compatibility
Fits most laptops up to 15.6-inch.
Be distinctly different with the HP 15.6 Spectrum Sleeve for laptops up to 15.6-inch diagonal screens. The heart design and sleek form provide subtle refinement. Carry as is or slip into your backpack – your laptop will thank you!
Streamlined design with essential coverage and scratch protection.
A layer of padded protection is blended within the full-length walls of the sleeve offsetting everyday bumps and scuffs. The durable twill exterior provides reliable weather resistance.
The smooth, micro-suede interior provides a soft blanket of protection, resisting scratches and preserving your laptop or Tablet.
---
Specifications
Dimensions (W x D x H)
415 x 282 x 25 mm (16.34 x 11.10 x 1 in)
Package dimensions (W x D x H)
325 x 415 x 30 mm
Weight
0.25 kg (0.55 lb)
Package weight
0.32 kg
What's included
Sleeve
HP Z3700 Valentine Wireless Mouse
[ 1CA96AA ]
Designed with flair
The sleek design complements your favorite HP devices, and fits comfortably anywhere.
Wireless convenience
The 2.4GHz wireless connection reliably keeps you hooked up.
Battery life that lasts
With up to 16 months of life on a single AA battery, this mouse was designed to push the limits.
Ready for anything
Blue LED technology lets your mouse function on a wide range of surfaces, so you can work from almost anywhere.
Highly accurate
1,200 optical sensors give you exceptional accuracy and incredible speed.
Plug and play
Just pop in the battery, plug in the USB receiver, and you're good to go. No need to install anything.
---
For more details about ( HP Z3700 Valentine pink Wireless Mouse and HP 39.62 cm 15.6″ Spectrum pink Sleeve Ladies edition Streamlined design with essential coverage and scratch protection 1AT98AA 1CA96AA ):
https://www.hp.com/us-en/home.html
For more bag ( briefcases ) / sleeves :