Creative SBS E2900 Speaker System (2.1 Powerful Bluetooth® // Subwoofer for TVs and Computers) [MF0490]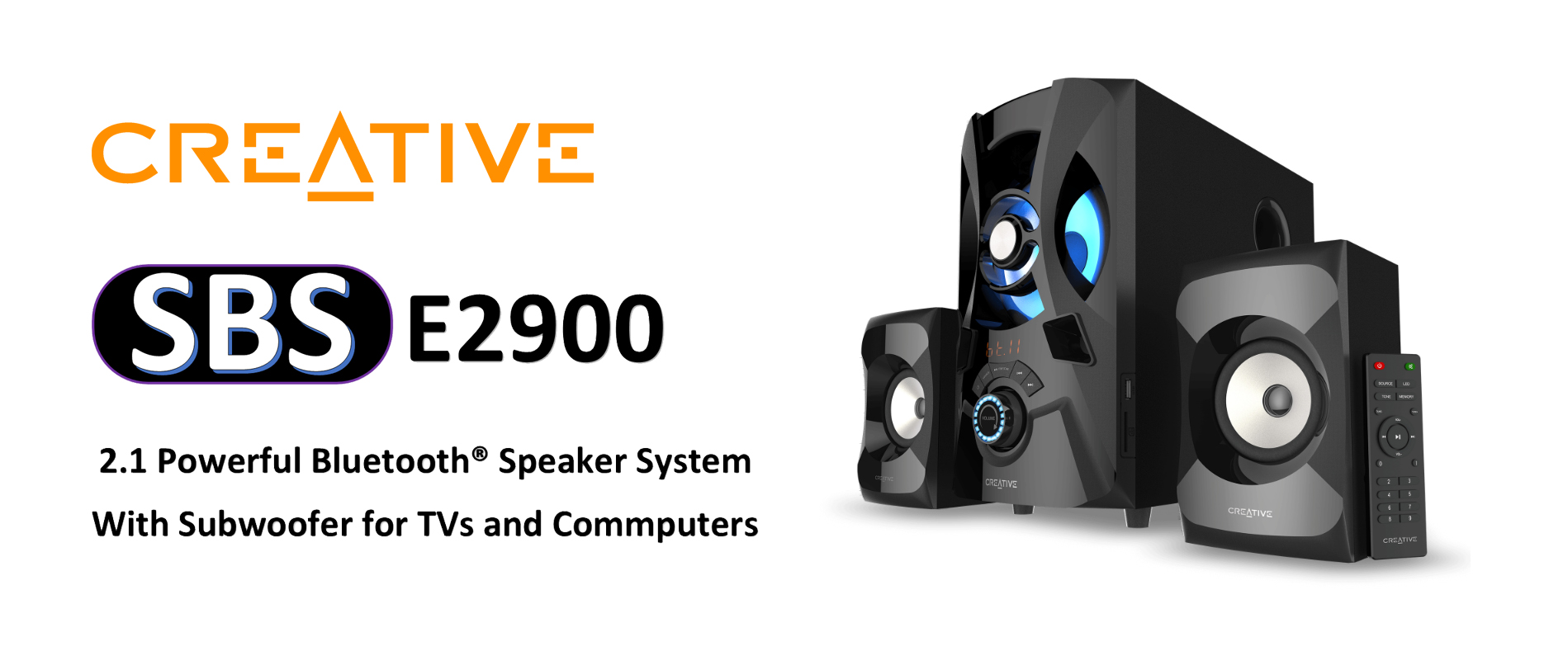 OVERVIEW
The most powerful speaker system in the Creative SBS E2000 series, this all-round 2.1 speaker system is set to captivate you with its incredible audio performance while offering a wide spectrum of connectivity options-wired, wireless, and in other forms.
With the SBS E2900, stream wirelessly via Bluetooth, listen to your favorite FM radio channels, or play your audio of choice directly via USB or SD card playback. For wired connectivity, connect your device to the 3.5 mm AUX-in input. To top it all off, you may also easily access and change volume and playback control settings directly on the speakers, or customize the treble and bass settings with the included wireless infra remote control.
The Creative SBS E2900 is designed to fulfill your need for an uncompromised, high-performance audio entertainment system.
AUDIO
2.1 Powerful Speaker System with Far-field Drivers
Powerful 2.1 Bluetooth speaker system that offers stunning and loud audio performance with 60W RMS and up to 120W Peak power. The speakers are fitted with in-house tuned far-field drivers to deliver room-filling audio for an immersive audio experience.

Front-firing Subwoofer for Great Bass
Hear the roar of the bass as the front-firing MDF subwoofer delivers deep, rumbling bass during your intense, action-packed stay-in movie nights. Better yet, transform your house into a party clubhouse with your favorite tunes!
Dimensions of Subwoofer (L x W x H): 170 x 335 x 313 mm
Dimensions of Satellite Speakers (L x W x H): 105 x 100 x 170 mm

CONNECTIVITY
Various Connectivity Options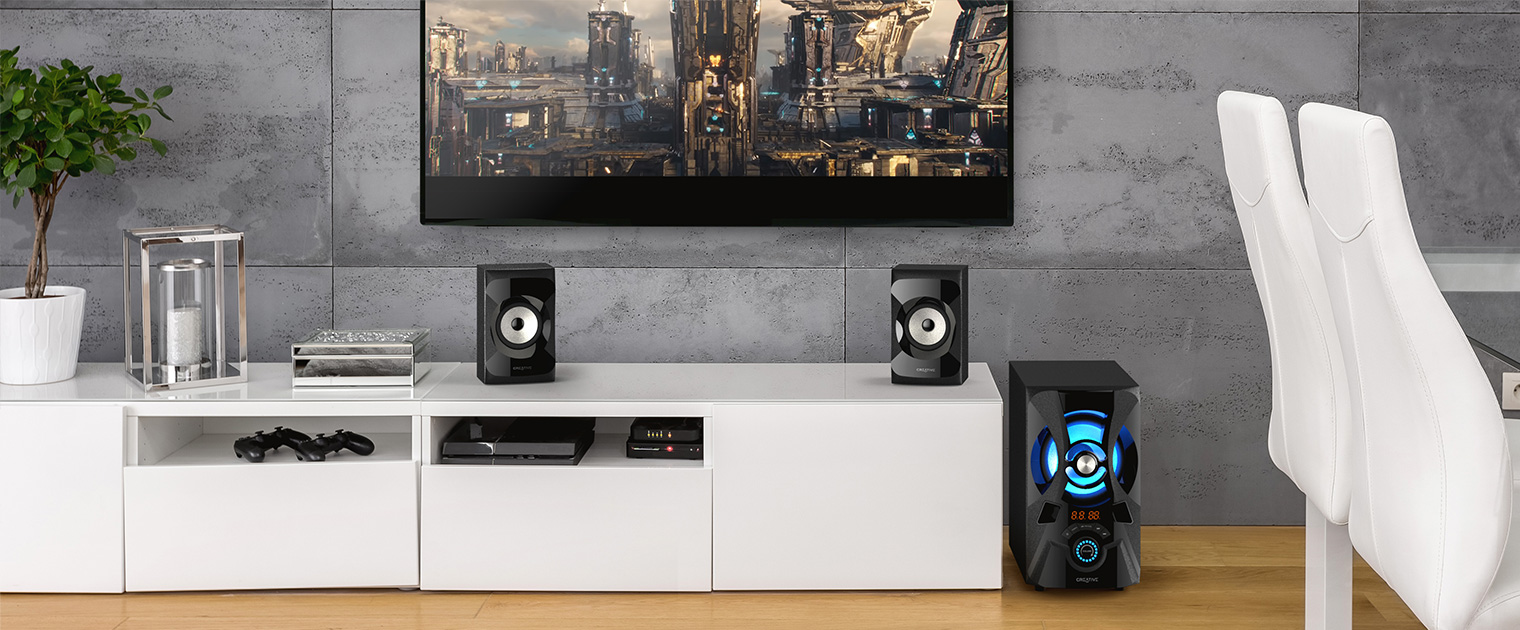 FM Radio

Listen to your favorite radio stations or DJs with the built-in analog FM tuner

USB MP3 Playback

Jam out to your favorite tunes from a USB flash drive using the built-in MP3 Player via plug-and-play functionality

Bluetooth 5.0

Featuring the latest Bluetooth 5.0 technology, enjoy high-quality audio wirelessly to your devices without any cable fuss

AUX-in

3.5 mm AUX-in port for wired analogue connectivity to your computer, TV, and more

SD Card

Equipped with a SD card slot for SD card playback so you can listen to your very own curated list of songs!
CONTROLS
Convenient Control Buttons
Easily access music playback and volume control from the system's front-facing control buttons.
Included Remote Control with Treble and Bass Control Settings
For added convenience, we have included an infra remote control so you can adjust the speaker's audio settings, volume and music playback wirelessly. You may further customize the audio with the treble and bass controls on the remote control provided to suit the audio genre you're listening to, or to fit the mood you're in!
DESIGN
Backlit LED
The E2900 is designed with beautiful backlit-LED that features passionate hues of purple, red, and blue.
A CLOSER LOOK
SPECIFICATIONS

Dimensions

FM Antenna: 1.5m / 4.92 ft, Satellite: 105 x 100 x 170 mm / 4.13 x 3.94 x 6.69 inches, Subwoofer: 170 x 335 x 313 mm / 6.69 x 13.19 x 12.32 inches, Infra Remote Control: 140 x 44 x 20 mm / 5.51 x 1.73 x 0.79 inches

Cable Length

Power cord: 1.2m / 3.94 ft, 3.5 mm to 3.5 mm cable: 1.5m / 4.92 ft

Drivers

Subwoofer: 5.25″, Satellite: 3″

Frequency Response

50–20,000 Hz

System Configuration

2.1 system

Bluetooth® Version

Bluetooth 5.0

Bluetooth Profile

AVRCP (Bluetooth Remote Control), A2DP (Wireless Stereo Bluetooth)

Supported Codecs

SBC

Weight

3.5 mm to 3.5 mm cable: 27g / 0.95 oz, Satellite: 488g / 1.08 lbs, Subwoofer: 3.16 kg / 6.97 lbs, Infra Remote Control: 40g / 1.41 oz

Operating Temperature

0—45°C

Power Output

Satellite: 15W RMS per channel (2 channels), Subwoofer: 30W RMS, Total System Power: 60W, Total System Peak power: 120W

Signal-to-Noise Ratio (SNR)

≥ 75 dB

Bluetooth Operating Frequency

2402–2480 MHz

Remote Control

Infrared

Connector Type

Bluetooth, AUX-in, USB FlashDrive

Color

Black

SYSTEM REQUIREMENTS

Windows

3.5 mm stereo jack

Bluetooth with A2DP stereo support

Macintosh

3.5 mm stereo jack

Bluetooth with A2DP stereo support

iOS mobile devices

3.5 mm stereo jack

iPhones / iPads running iOS 7 or higher for Bluetooth

Bluetooth with A2DP stereo support

Android mobile devices

3.5 mm stereo jack

Phones / Tablets running Android 4.0 or higher for Bluetooth

Bluetooth with A2DP stereo support

PACKAGE CONTENTS

2 x Satellite Speakers (Left and Right Satellites)

1 x Subwoofer

1 x Infra Remote Control

1 x 3.5 mm to 3.5 mm Cable

1 x FM Antenna

1 x Quick Start Guide

DOWNLOADS

Owner's Manual