Corsair 4000D RGB Airflow – CC-9011240-WW
Corsair 4000D RGB Airflow – CC-9011240-WW
The CORSAIR 4000D RGB AIRFLOW is a mid-tower ATX case with high-airflow design and exceptional cooling. A steel front panel and three included CORSAIR AF120 RGB ELITE fans with AirGuide technology provide maximum airflow through the case. Spacious enough to fit up to 360mm long GPU's and with two additional 120mm fan mounts on the PSU shroud, you can cool your full-size graphics card sufficiently.
Control RGB on up to six PC fans with the included Lighting Node PRO controller and powerful CORSAIR iCUE software. Build your next PC with ample space for radiators in sizes up to 360mm and four storage drives. Complete with a modern front I/O panel, the 4000D RGB AIRFLOW case is ready to keep your next amazing build cool.
A Fitting Choice
The award-winning 4000D RGB AIRFLOW case provides amazing out-of-the-box cooling and RGB lighting for your next build, with three AF120 RGB ELITE PWM fans and an iCUE Lighting Node PRO RGB lighting controller included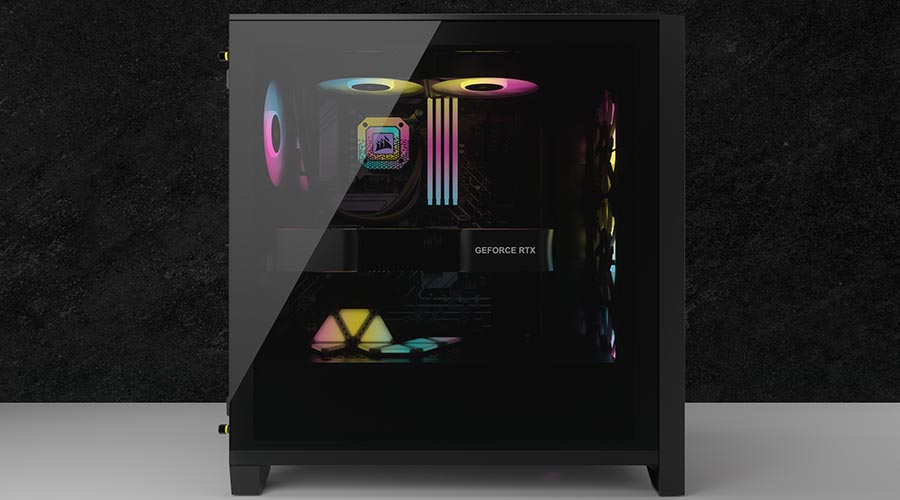 Extreme Cooling Potential
A spacious interior fits up to 8x 120mm or 4x 140mm cooling fans, along with multiple radiators including a 360mm in front and 280mm in the roof (dependent on RAM height).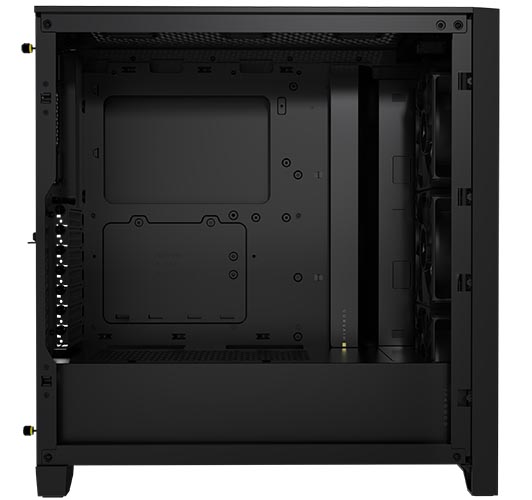 GPU Compatibility and Cooling
Support the latest graphics cards with room for up to a 360mm long GPU and two additional 120mm fan mounts on the PSU shroud for installing fans for direct airflow to the GPU.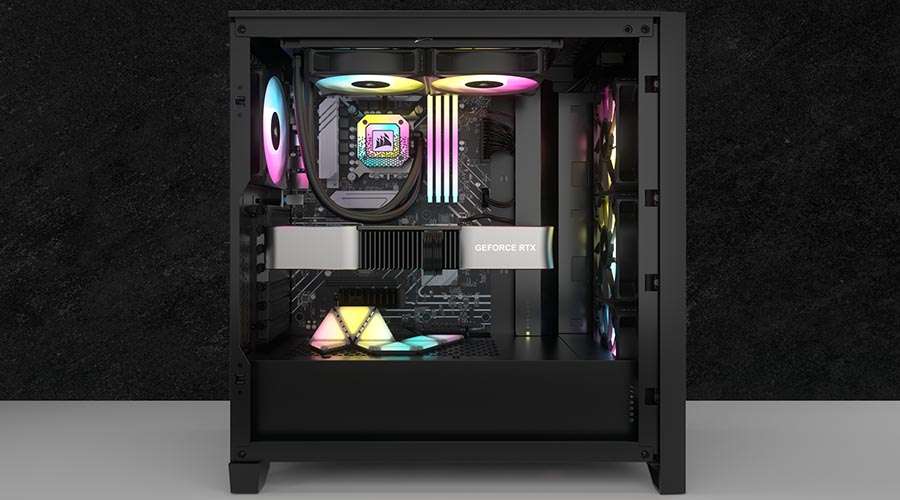 CORSAIR AirGuide Technology
The AF120 RGB ELITE fans deliver powerful airflow at speeds up to 2,100 RPM and 65.57 CFM and feature CORSAIR AirGuide technology, which increases static pressure and focuses airflow for better cooling.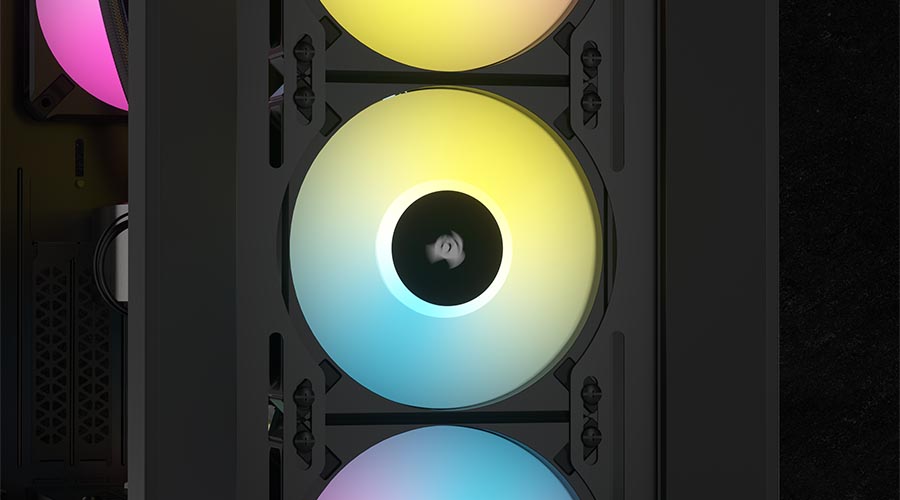 Modern Front Panel I/O
Puts your connections within easy reach, including a USB 3.2 Gen 2 Type-C port, USB 3.2 Gen 1 Type A port, and a combination audio/microphone jack.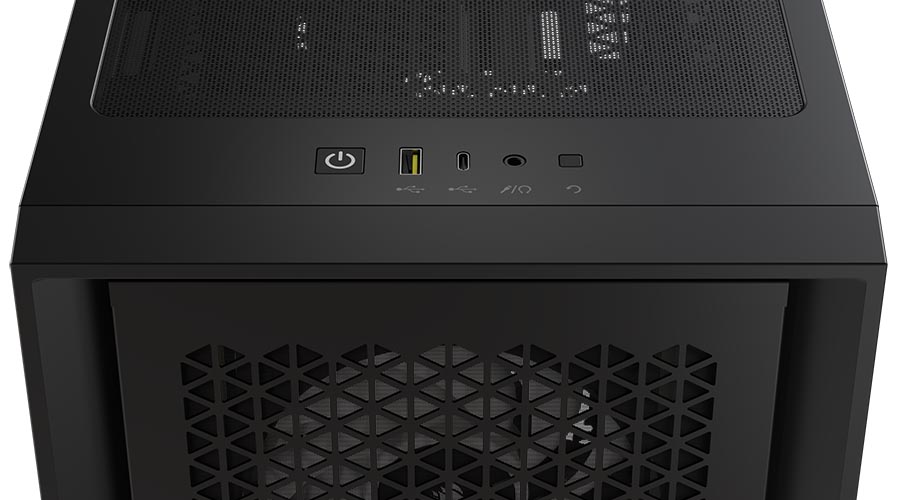 Included RGB Controller
Fully control and synchronize the RGB lighting for up to six fans with the iCUE Lighting Node PRO RGB Lighting Controller and CORSAIR iCUE software.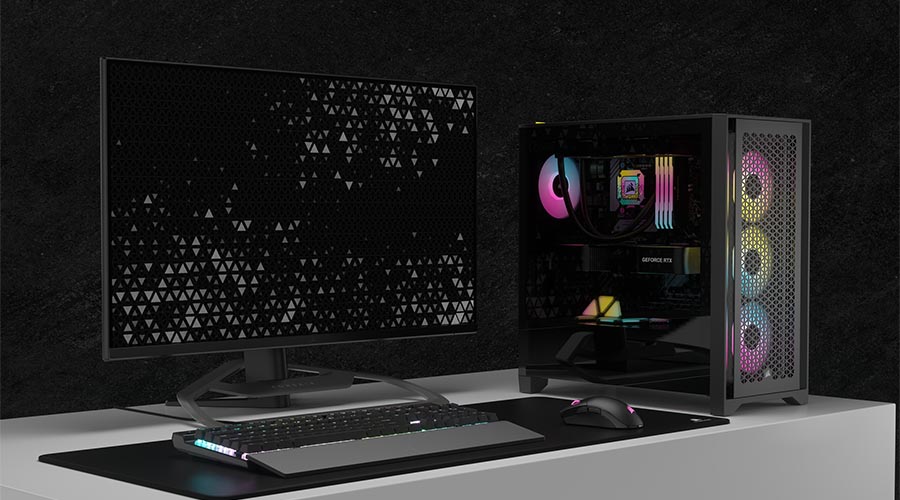 High-Airflow Front Panel
An optimized steel front panel delivers massive airflow to your system for maximum cooling.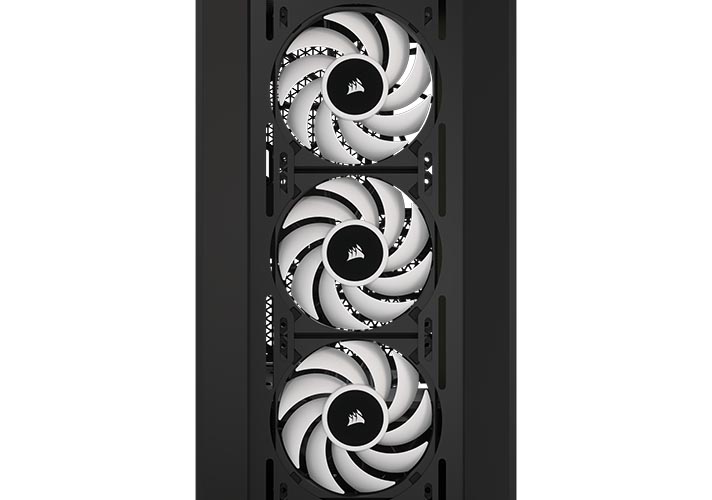 CORSAIR RapidRoute Cable Management System
Route your major cables simply and quickly through a single channel, with a roomy 25mm of space behind the motherboard for all of your cables.
All the Storage You Need
Fits up to 2x SSDs and 2x HDDs.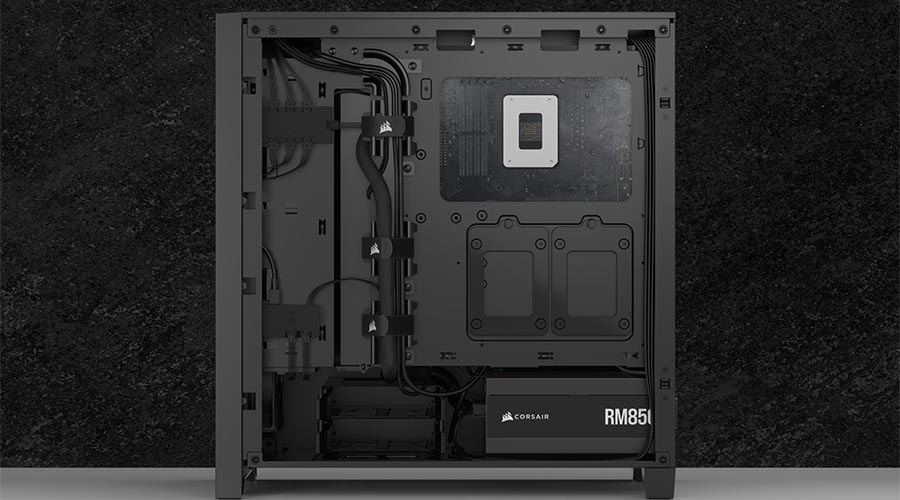 Tool-Free Tempered Glass Side Panel
Show off your high-profile components and RGB lighting behind a beautiful tool-free tempered glass side panel.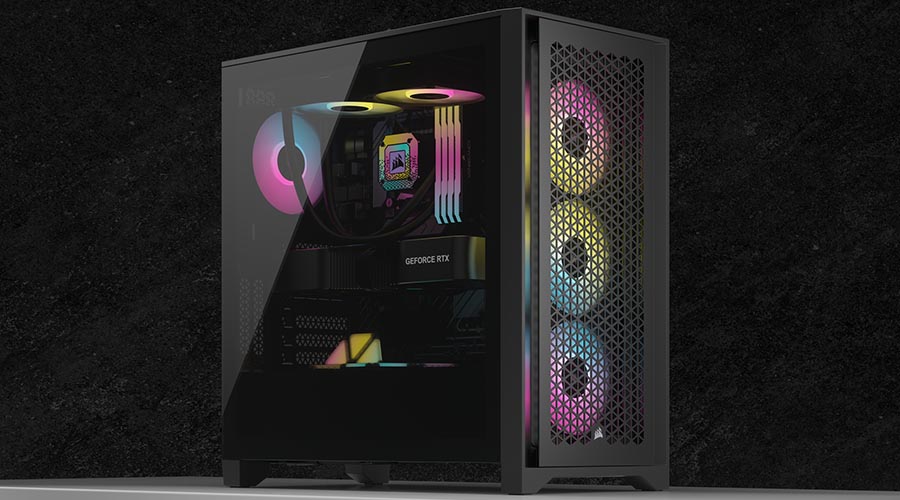 SPECs.
Motherboard size :  Mini-ITX
Micro ATX
ATX
Front Panel I/Os : 1x USB 3.1 Gen 1
1x USB 3.2 Type-C Gen 2
Combo Jack

Other information :
Dimensions (L x W x H): 453mm x 230mm x 466mm / 17.83″ x 9.06″ x 18.35″
Material: Steel, Plastic, Tempered Glass
Dust Filters: Front, PSU, Top
Expansion Slots (Main): 7 + 2 Vertical
Fan Support
Front: 3x 120mm, 2x 140mm (3x 120mm Included, ** CORSAIR AF120 RGB ELITE)
Top: 2x 120mm, 2x 140mm
Rear: 120mm
Radiator Support
Front: 360mm / 280mm
Top: 280mm with CORSAIR LPX DRAM / 240mm with all CORSAIR DRAM
Rear: 120mm
Clearance
PSU Length/ Type: 180mm, ATX
CPU Cooler Height: 170mm
GPU Length: 360mm