Vention VGA Male to HDMI Female Converter (3.5mm Audio Cable // microUSB Power Cable // 0.15M Black) [ACNBB]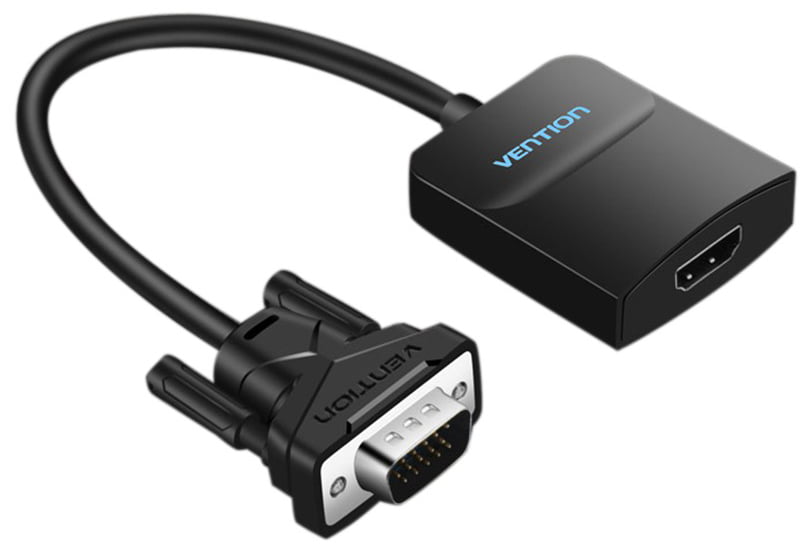 Description:
# Brand:                                    Vention
# Model:                                    ACNBB
# Shell material:                    ABS
# Interface type:                   HDMI A female / VGA male / 3.5mm female / USB2.0 Micro-B mother
# Interface technology:    nickel plating
# Conductor:                         pure copper
# Line length:                   0.15 meters
Features:
# Audio and video synchronization.
# Independent audio input connector.
# Independent power supply design ensures stable transmission and improves equipment compatibility.
# High quality nickel-plated interface, resistant to plugging, no rust, durable.
# ABS texture shell, curved concave surface, easier to handle.
# Plug and play, convenient and convenient.
---
Specification
Dimensions and Weight
# Product weight:         0.0690 kg
# Product size:             22.50 x 4.00 x 1.58 cm / 8.86 x 1.57 x 0.62 inches
# Package weight:         0.0710 kg
# Package size:               21.00 x 15.00 x 1.00 cm / 8.27 x 5.91 x 0.39 inches
Package Contents
# Package Contents:    1 x Converter