Shockproof Case for Apple iPad 10.2″ 8th Gen 2020/ 7th Gen 2019 Cover
Shockproof Case for Apple iPad 10.2″ 8th Gen 2020/ 7th Gen 2019 Cover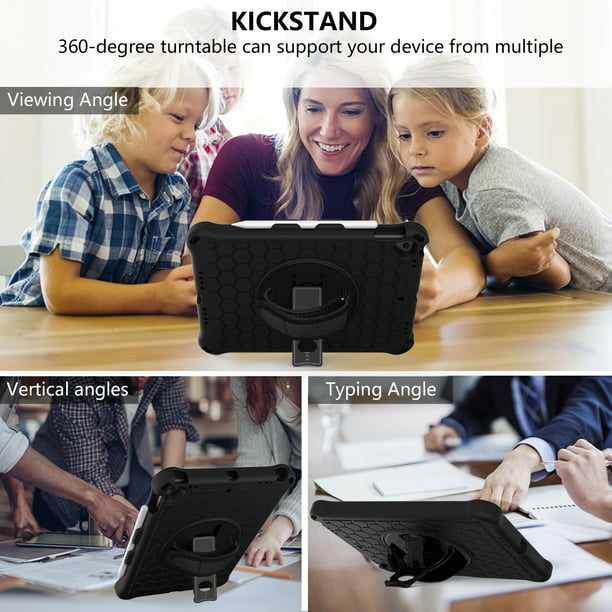 【Compatibility】
Only fit for Apple iPad 8th generation 10.2 inch 2020 [MODEL :A2270/A2428/A2429/A2430] and Apple iPad 7th Generation 10.2 Inch 2019 [MODEL :A2197/A2198/A2199/A2200],New 2019 iPad Air 10.5 (Model: A2123 / A2152 / A2153 / A2154) and 2017 iPad Pro 10.5 (Model:A1701 / A1709), WILL NOT FIT ANY OTHER MODEL.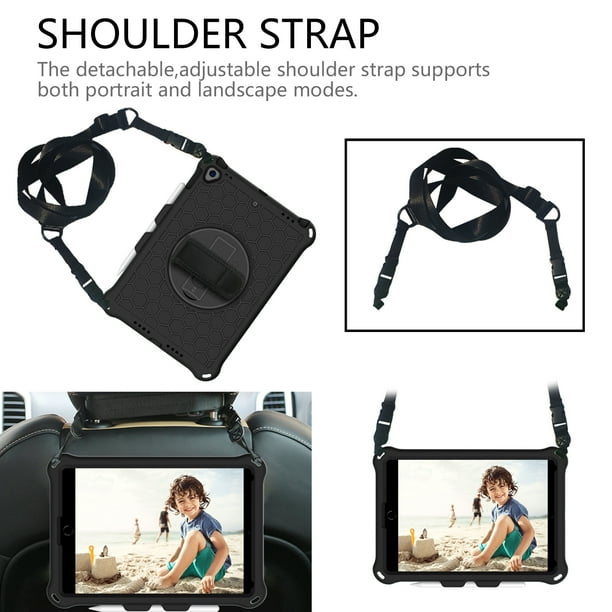 Pencil Cap Holder is included, but Apple Pencil and Pencil Cap is not included.
【Full Body Protection】
Three layer structure design with built-in transparent screen protector provides a full around protection against scratch,impacts and shock during daily use. Built-in Apple Pencil Holder and Apple Pencil Cap Holder offer a safe way to store your iPad Pencil while using our case.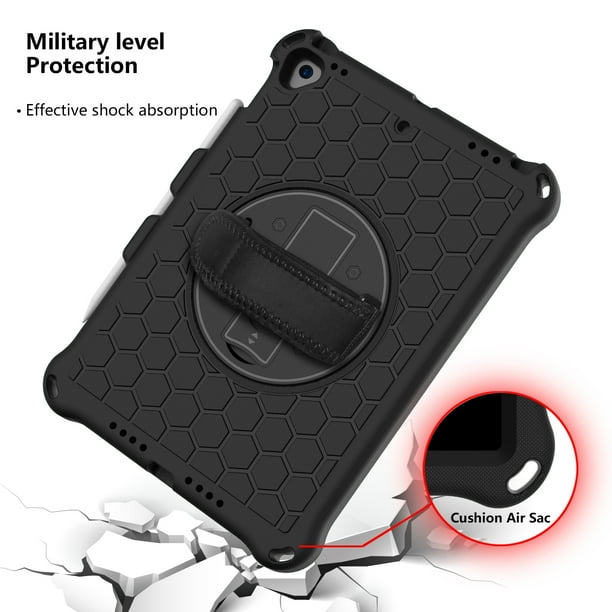 【360° Swiveling Stand & Hand Strap】
Located on the back of iPad 8th generation 10.2 Inch shockproof case 2020, built-in 360 degree rotating kickstand and adjustable handle hand strap provides a more flexible and convenient way to use your tablet during work, study or journey, ideal for students,teachers,engineers,cashiers and waiters,etc.
【Adjustable & Detachable Carrying Strap】
Portable Shoulder Strap allows to carry your iPad in landscape/portrait mode securely in outdoors or hang your iPad in kitchen,bedroom,car seat for convenient usage.
Package includes:
1 x Shockproof Case Cover for Apple iPad 10.2″ 8th Generation 2020 / 7th Generation 2019 / iPad Air 3rd Generation 10.5″ 2019
Please Note that the apple pencil and screen protector is not included!!
Compatible with Apple iPad 10.2 8th Generation 2020 and 7th Generation 2019, Also fit for Apple iPad Air 3 10.5″ 2019.
With carrying adjustable shoulder strap
Without screen protector
Made of premium EVA Rubber and PC
Heavy Duty Protection Shockproof; Kids friendly