Huawei MateView SE 23.8″ Inch With IPS Panel , Full HD , 75Hz , AMD FreeSync , HDMI and DP – SSN-240
Features of Huawei MateView SE 24″
More Color, Much Better
90% P3 Color Gamut | HUAWEI Full View Display | eBook Mode
Pristine, Cinema-Level Color Gamut
Thanks to a 90% P3 color gamut2, you'll find all of your content
faithfully rendered in true-to-life splendor, with vibrant
effects from end-to-end.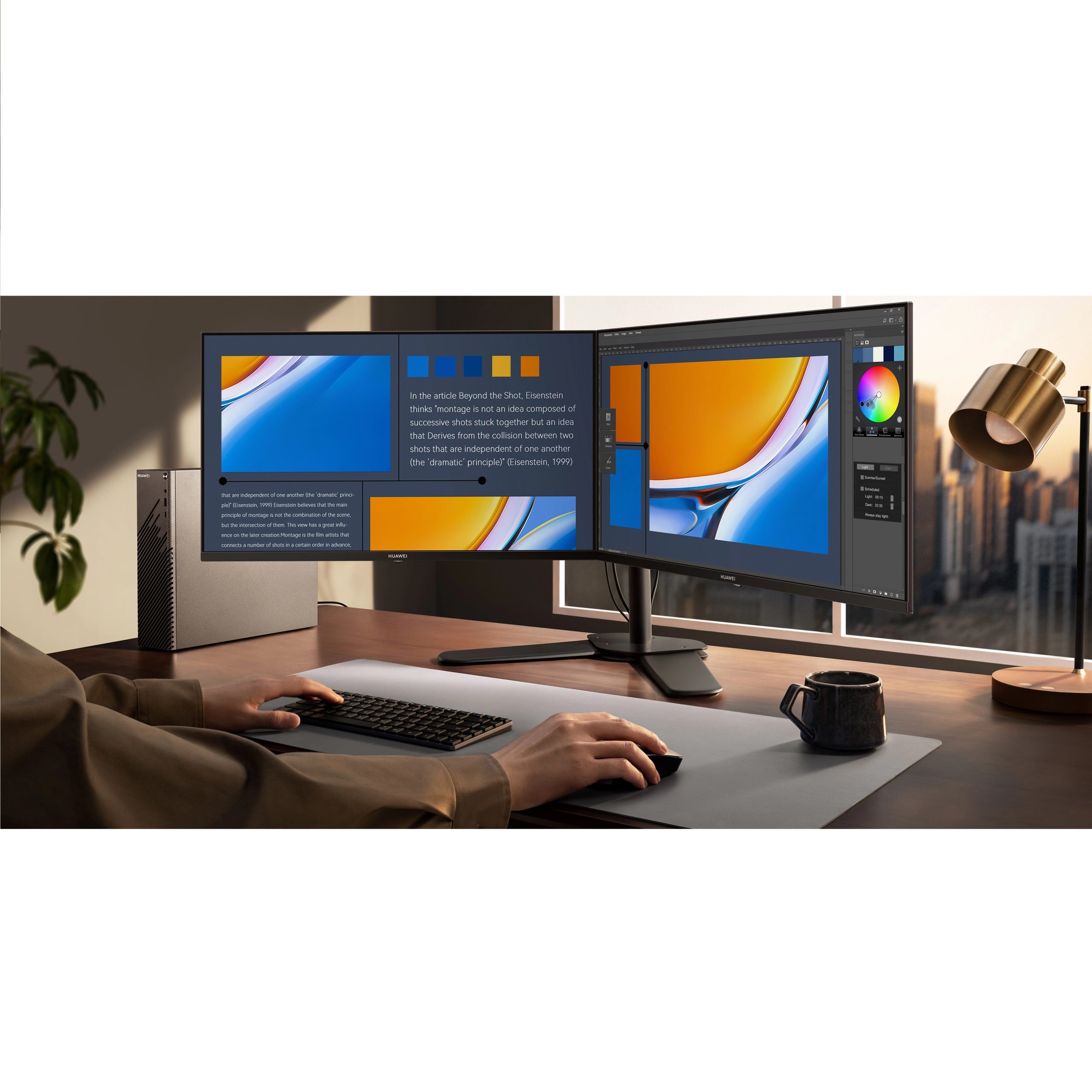 Device-by-Device Color Calibration
Each HUAWEI MateView SE has undergone professional color calibration
before leaving the factory, which ensures that the colors displayed on the
screen are as close as possible to those that you see in the real world.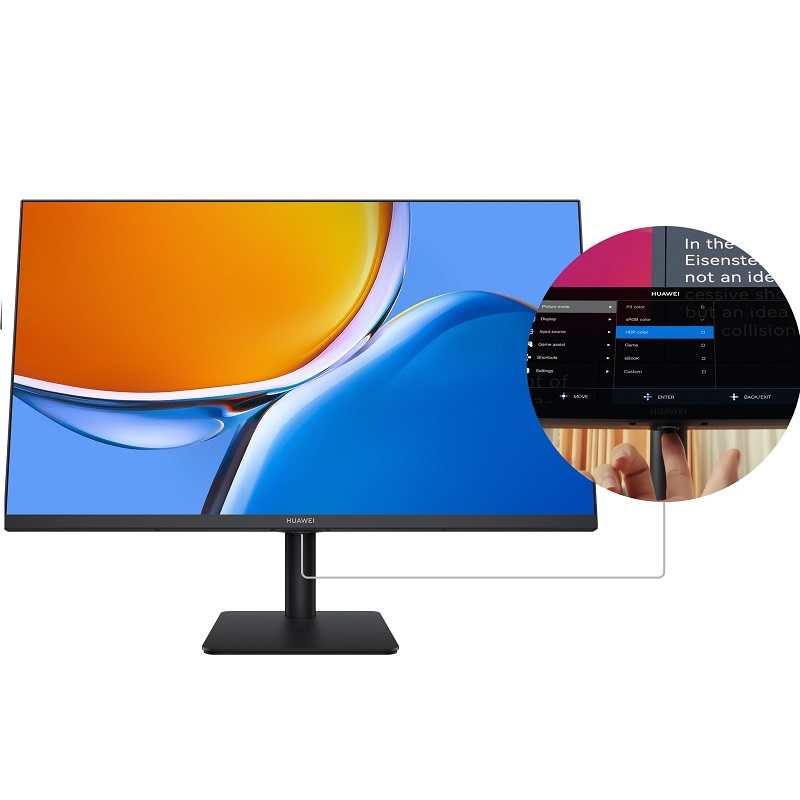 Enriching Display
Full of Detail
HUAWEI MateView SE supports a
maximum refresh rate of 75 Hz,5 and
works seamlessly with AMD FreeSync
to prevent image tearing.
Takes Your Eye Health to Heart
HUAWEI MateView SE is the first – ever monitor to have obtained the
SGS low visual fatigue certification6, and TÜV Rheinland
low blue light7 and flicker-free certifications, proving effective
at suppressing the many sources of eye fatigue8.
Five-Way Joystick, One-Step Operations
Say goodbye to pesky keys, by embracing newly interactive five-way
joystick, which allows you to create a custom OSD menu, and enjoy seamless navigation.
Paper-Like Reading Display
eBook Mode9: Paper-like display effects8 and automatically thickened fonts will put your
eyes and mind at ease, so that you read away on a boundless screen, without a care in the world.
Comfortable from Any Angle
The monitor's bracket design allows you to freely rotate between vertical and horizontal setups, all the way
from 0° to 90°10, with effortless height and pitch angle adjustments11, keeping your
back loose and limber, whether you're at work or at play.
Boundless Possibility on a 1 m2 Desk
Standard VESA wall mounting holes (100 mm x 100 mm)12 are highly versatile and space-efficient,
making it easy to double down with multiple monitors, without any of the clutter or hassle.
Versatile Port Setup,
for Efficient Transmission
Inline ports on the rear of the monitor facilitate
seamless connections to a wide range of devices,
including laptops, desktops, and game consoles,
with DP and HDMI port support to meet your full
range of office and entertainment needs.
Specifications :
Dimension
Dimensions (W × H × D)
538.5 mm × 362 ~ 472 mm × 182 mm (including the support)
Weight:
Approx. 4.5 kg
*These measurements may vary depending on factors such as the underlying technology, manufacturing process, and materials.
1)Supporting tilting of 5° (±2°) backwards and 18° (±2°) forwards.
2)Supporting 90° (+2°/0°) vertical swivel.
3)Supporting 110 mm (±5 mm) elevation.
Display
Resolution:
1920 × 1080 pixels, 93 pixels per inch (PPI)
Viewing angle:
178 degrees
Color gamut:
90% P3 color gamut (100% sRGB)
Static contrast ratio:
1000:1
Brightness:
250 nits (typical value)
Ports
HDMI port × 1
DP port × 1
Charging port × 1
Support or Base
Buttons
Five-way joystick
Power Adapter
24 W Round Port DC Power Adapter
Input: 100–240V AC
Output: 12V/2A
Support
HUAWEI Mate View SE
Support (only for the HUAWEI Mate View SE Adjustable Stand Edition)
Base
Power Adapter
HDMI Cable
Quick Start Guide
Assembly and Disassembly Guide
For more information about Huawei MateView SE 24″ visit official website of Huawei
For more related products visit us at our website