​REMAX Mobile Portable Adjustable Microphone Stand Recording Studio Package
REMAX Microphone Stand CK100
CK100
Product description
Specification:
Brand: REMAX
Model: CK100
Material: metal and plastic
Color: black
Can support devices size: 7.9 inch
product size : about 95cm ( Straighten)
Applicable products: most handheld microphones are available on the market (Except for the bottle type
microphone)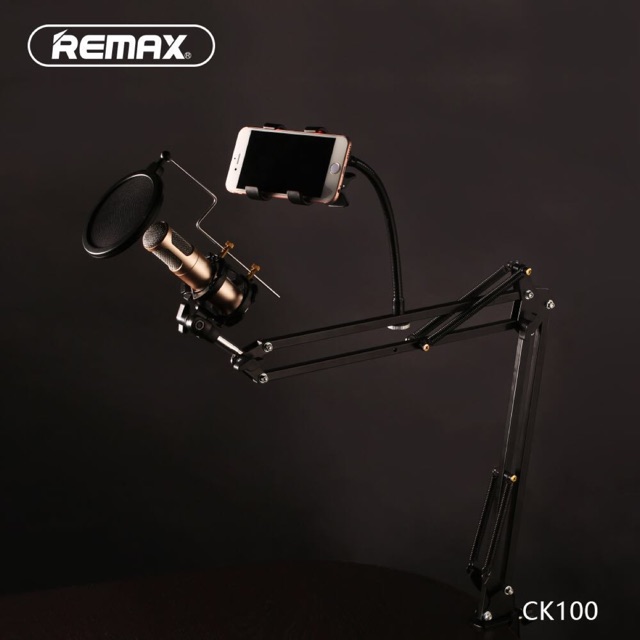 Feature of Remex Microphone Stand CK100 :
Solid base : metal locking type base, adjustable freely, maximum support of 6 CM. When fixed, it is recommended that the fabric type should be added, and the lock should be tightened to protect the lock, not with the glass material.
2. .The adjustable Black Scissor Arm Stand is made of high quality steel frame, plastic Mic Clip (Included), sturdy and durable. Folding type, convenient to carry. The adjustable arms allow you to carry it with you easily and adjust the suitable angle and height to show your perfect voice. Can be mounted on the announcers table
with the Table Mounting Clamp (INCLUDED).
3. Compact microphone stand designed for heavy duty carry. Suitable for any stores, families, stages, studios , broadcasting and TV stations, etc. Completely flexible, firmly attach the microphone anywhere.
Note: This product doesn't contain a microphone . It's just a microphone stand .
You can visit us at our Facebook Page for more New Offers .
For more related products visit Us at Our website .