ASUS ExpertBook B1 – i7 11th Gen –  B1500CEPE-BQ1277
ASUS ExpertBook B1 – i7 11th Gen  B1500CEPE-BQ1277
Dual Storage
Speed and capacity, both on board
You can specify ASUS ExpertBook B1 with up to two storage devices, providing a powerful combination of ultra-fast 1 TB SSD and 2 TB HDD, perfect combination of high-speed data access and large storage capacity. Removal of a few screws on the base provides easy access to upgrade the RAM or storage devices without the need to disassemble the entire device.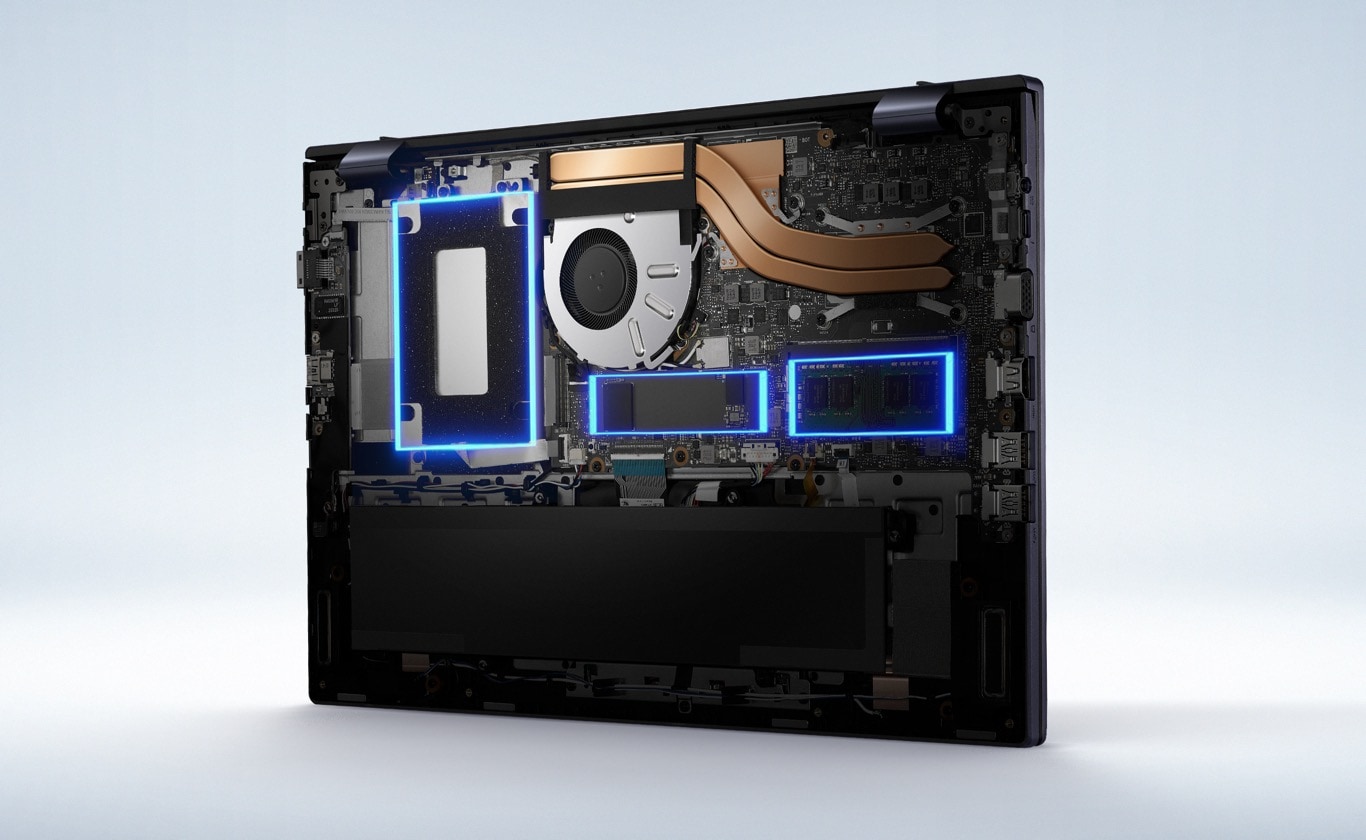 ASUS Intelligence Performance Technology
Perfectly-balanced power
ASUS ExpertBook B1 features exclusive Intelligent Performance Boost technology to achieve the best laptop performance and agility by tuning the internal thermals. ASUS-exclusive algorithms combine with up to five4 smart sensors, an aerodynamic design and an up to 90-watt5 power supply to intelligently manage CPU performance. This empowers you to switch effortlessly between Performance, Balanced or Whisper modes — enabling you to get on with business while B1 handles power and performance in any scenario.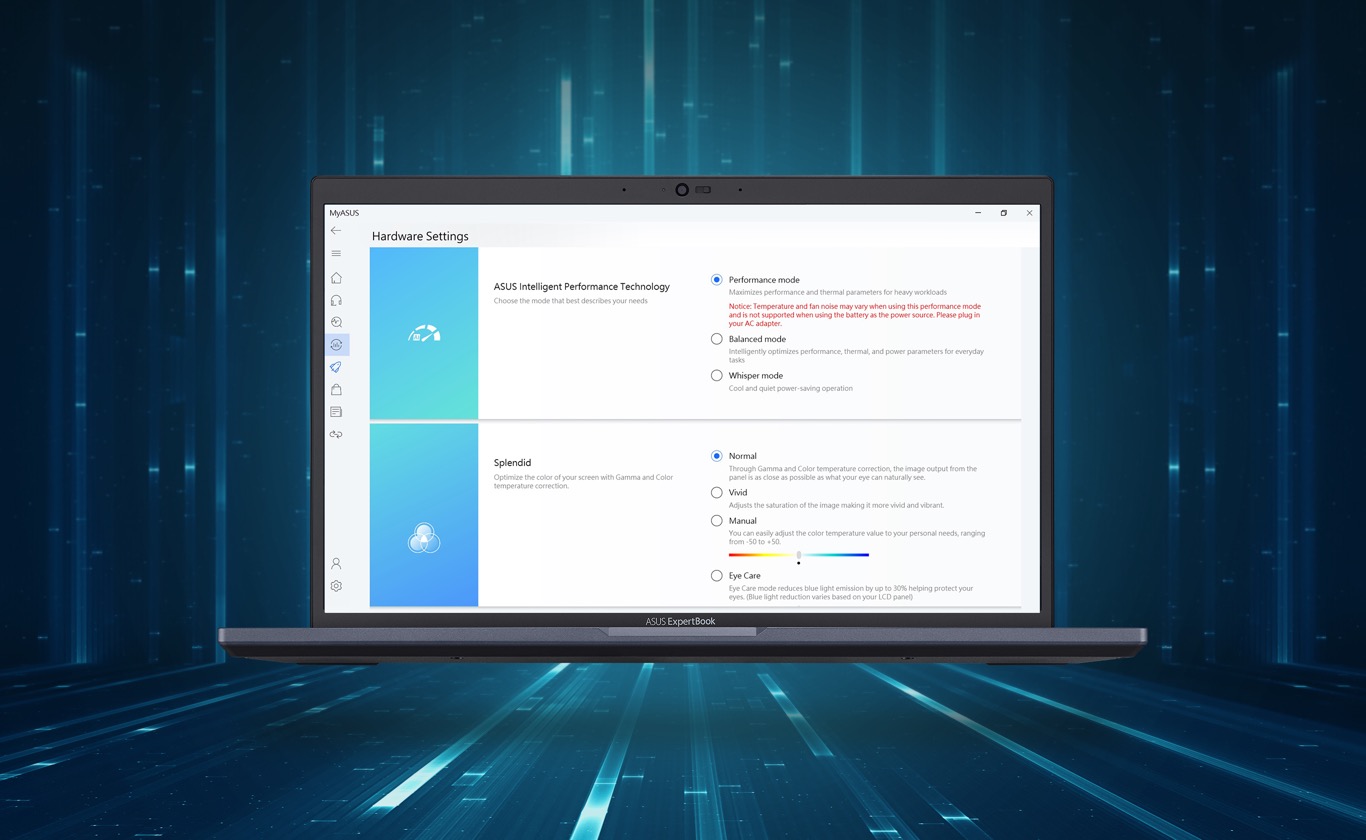 Next-level AI noise-canceling 
audio technology
With the increase of remote work and video conferences, we implemented the ASUS AI noise-canceling technology to ensure the best experience. The AI Noise-Canceling Mic feature in the MyASUS9 app effectively filters out unwanted ambient noise. There are two modes: Single-presenter mode allows the voice directly in front of the PC to be heard clearly; while Multi-presenter mode clarifies speech from different direction, ensuring optimum quality for group conference calls. The AI Noise-Canceling Speaker feature filters out all ambient noise apart from human speech — so you'll hear what everyone else is saying.
Press play to experience noise-canceling technology
Turn on your device audio to hear the difference.
I/O Ports
Extensive, 
versatile connectivity
Connectivity is especially important in a business laptop to handle all workloads. ASUS ExpertBook B1 is packed with a comprehensive selection of I/O ports, including the industry-leading Intel® Thunderbolt™ 4 for lightning-fast, up to 40 Gbps data transfers, video output and fast-charge capability15. It also has two USB 3.2 Gen 2 and a USB 2.0 Type-A, HDMI 2.0, Ethernet and a microSD card slot — so it's primed and ready for the today's remote-working paradigm15. For enhanced reliability, the solidly constructed ports are test to endure over 10,000 insertions10.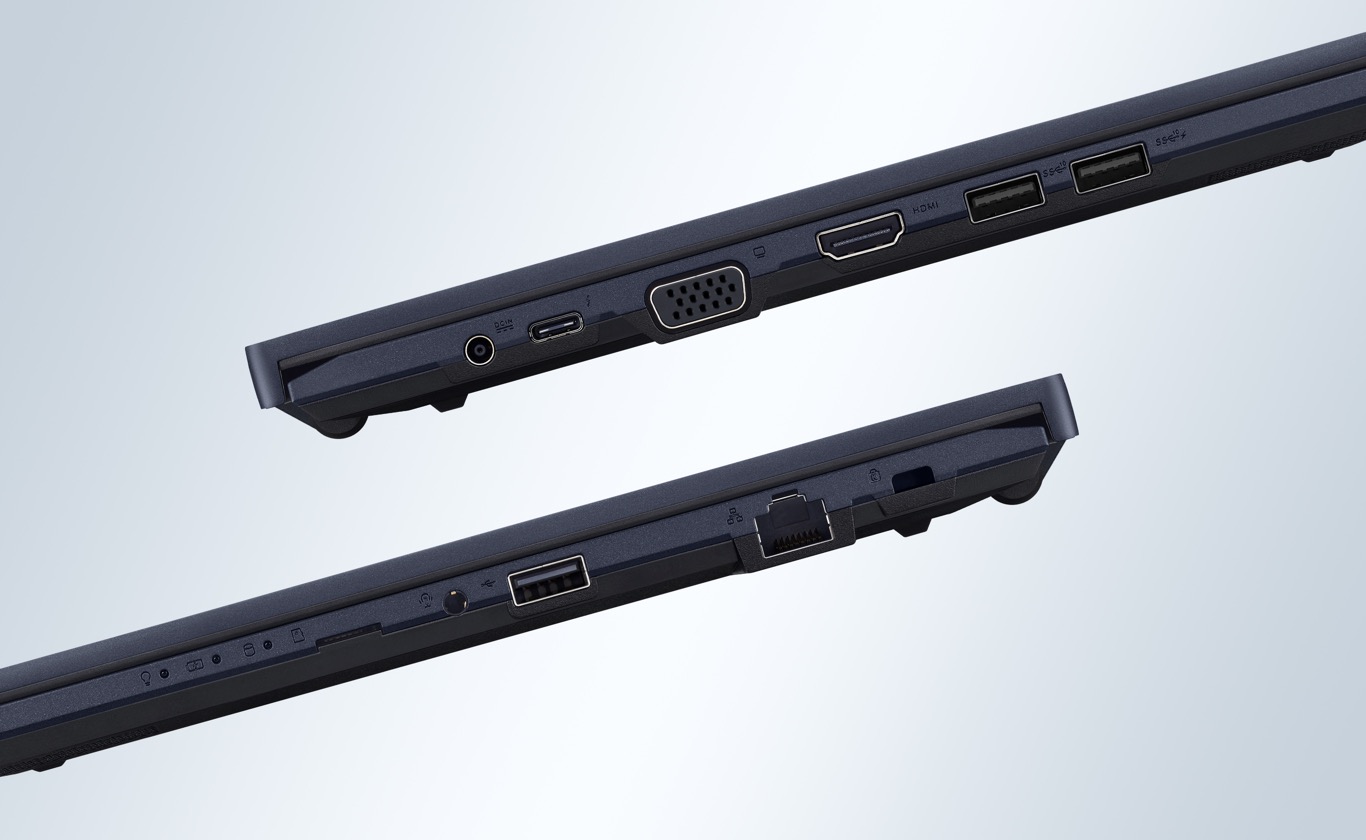 Multi-task with dual 4K displays
ASUS ExpertBook B1 helps you minimize the hassles and inconveniences of remote work. With both Thunderbolt 4 and HDMI 2.0 ports available, you're free to connect up to two external 4K UHD displays. So, for example, you could host a video conference on B1's own display while using two screens on either side to keep in view information that's important to your call. The screen is also certified by TÜV Rheinland for low blue-light emissions, proving a more comfortable viewing experience that potentially helps to protect your eyes from damage.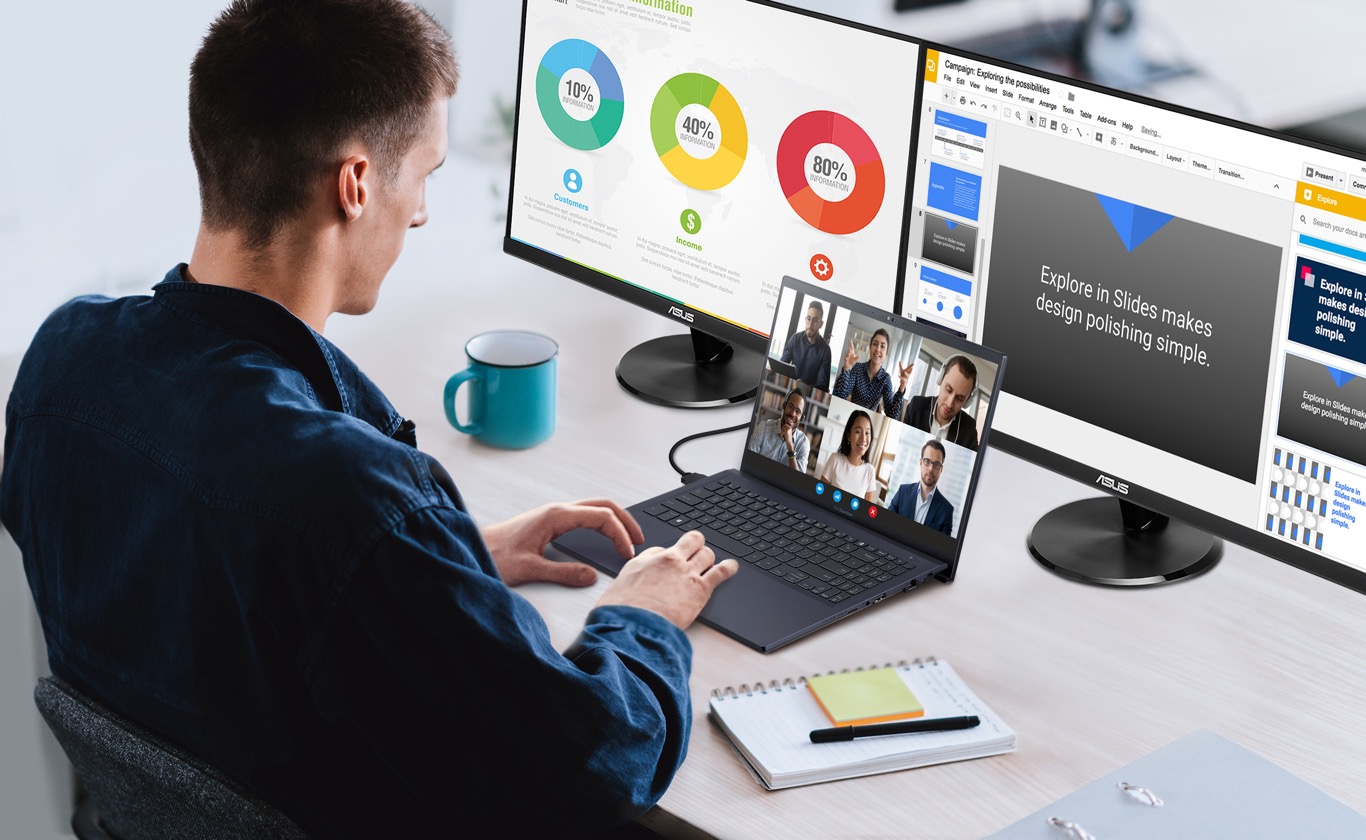 Solid construction
The chassis design incorporates features that provide extra structural rigidity to cope with the rigors of everyday use.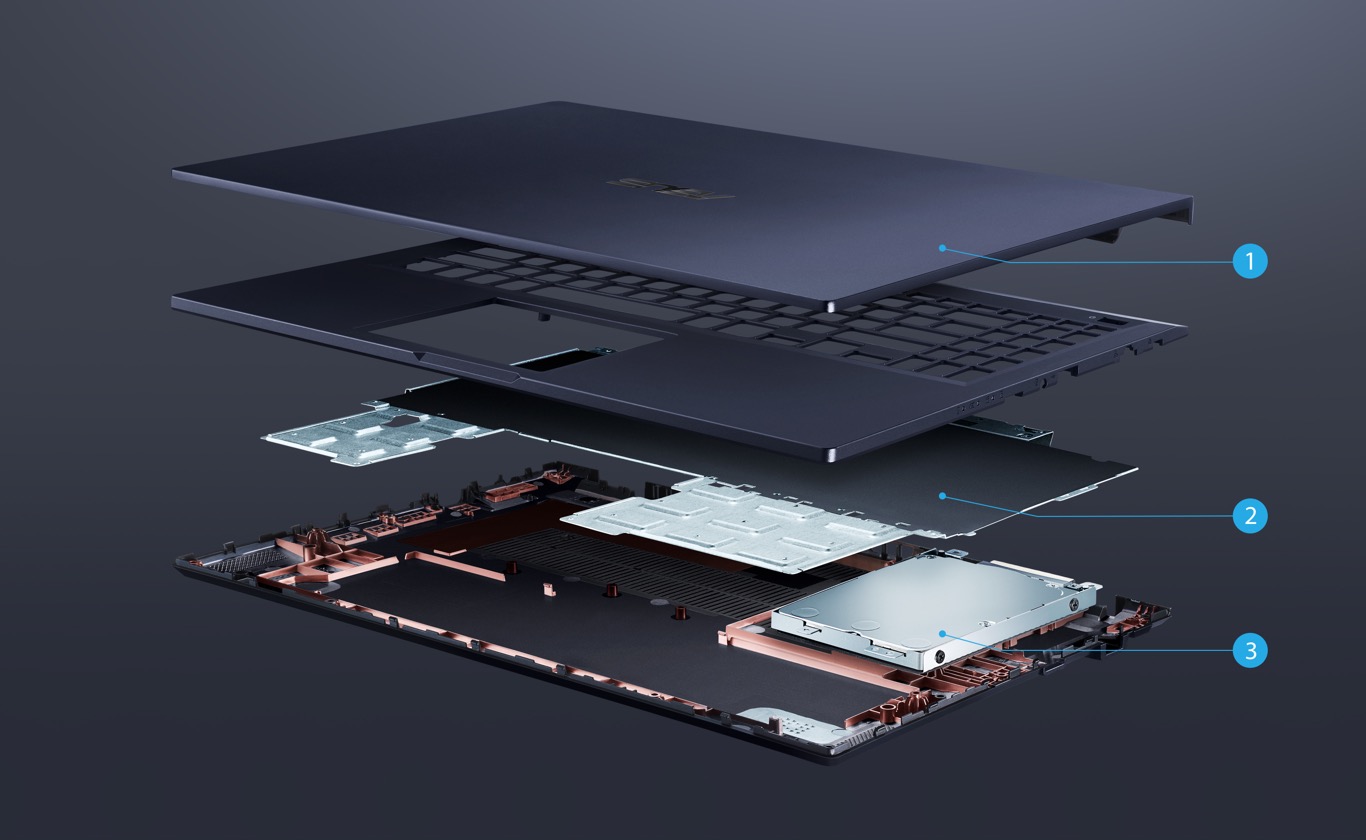 SPECs