TP-Link AC3150 Wireless MU-MIMO Gigabit Router [Archer C3150 V2]
Brand:
TP-Link
Product Code:
0800192
Availability:
In Stock
Price: 189.00JOD

TP-Link AC3150 Wireless MU-MIMO Gigabit Router

[Archer C3150 V2]


Overview

Boost Your Wi-Fi - The Archer C3150 V2 runs at combined speeds of up to 3150Mbps across its 2.4GHz and 5GHz bands

Larger Data Streams - Broadcom® NitroQAM™(1024-QAM) technology with 4-Stream lets the Archer C3150 V2 transmit 25% more data

Multiple Reliable Connections - MU-MIMO(Multi-User MIMO) technology allows the router to run several devices at the same time to achieve speeds up to 4X faster than standard AC routers

Smoother Performance - Smart Connect technology assigns each of your devices to the best available Wi-Fi band

Powerful Processing - A 1.4GHz dual-core processor ensures simultaneous browsing, streaming, and gaming without delay


Get Faster Wi-Fi for Every Device

AC3150 Wireless MU-MIMO Gigabit Router

Archer C3150 V2


Making Incredible Speed a Reality

With combined speeds of up to 3150Mbps, the Archer C3150 V2 easily handles demanding activities at the same time. The router uses the latest innovations in Wi-Fi technology to create a faster, stronger, more reliable wireless network for your home. With the Archer C3150 V2, lag, dropped connections, and dead zones will become a thing of the past.


NitroQAM and 4-Stream for Maximum Wi-Fi Speed

The Archer C3150 V2 boasts a powerful combination of advanced Broadcom® NitroQAM™ technology and 4-Stream technology, which boosts wireless speeds up by 25%. This provides the speed and elite performance that you need to support your most demanding online applications, including simultaneous 4K streaming and online gaming.


More Throughput for Connecting Multiple Devices at the Same Time

The Archer C3150 does more than just create faster Wi-Fi, it helps your devices achieve optimal performance by making communication more efficient. With MU-MIMO ready* technology, the Archer C3150 can provide four simultaneous data streams, allowing all connected devices to achieve speeds up to 4X faster than standard AC routers.

Moreover, dynamic Smart Connect technology automatically selects the best available band for each device.


Extraordinary Home Entertainment

Archer C3150 V2 can support many devices when you invite friends to your large house to entertain. It can maintain multiple simultaneous HD streaming, online gaming and other content consumption without lag. The Archer C3150 V2 can provide a maximized coverage and enable your devices to stay covered, near or far as it. Don't let your mobile lifestyle stop the streaming and enjoy your home party.

The Power at the Heart of Your Router

Unlike normal routers, which usually have single core processors, the Archer C3150 features a powerful 1.4GHz dual core processor.

This unlocks the full potential of NitroQAM and 4-Stream technologies, helping your dual band router maximize its performance potential.


Coverage for Your Entire Home

Four high-performance dual band antennas and high-powered amplifiers help create a strong, far-reaching network for your home. Beamforming technology focuses the Wi-Fi transmission in the direction of your connected devices, concentrating the signal where you need it the most. This allows you to enjoy fast, stable Wi-Fi in every part of your home, as well as on the patio, by the pool, and even in the yard.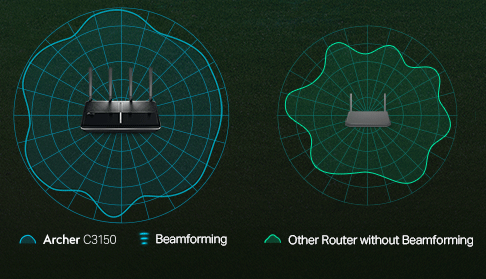 A Router You Can Show Off

An elegant, minimalist design allows the Archer C3150 to be integrated seamlessly into the decor of any room. The LED indicators can be switched off to prevent distraction at night when placed in bedrooms or common spaces.

Plug Into Sharing, Plug Into Stability

You can quickly and easily share photos, music, and other files with family and friends. Just connect an external hard drive to the Archer C3150's USB 3.0 port or USB 2.0 port and immediately start enjoying lightning-fast transfers. To help your wired devices reach peak performance for smooth gaming and streaming, you can also create fast, stable wired connections using the four Gigabit Ethernet ports, which transfer data at speeds up to 10x higher than standard Ethernet ports.


Easy Setup and Use

Whether you prefer the powerful Tether App or the intuitive web interface, you can set up your Archer C3150 in minutes. The Tether App allows you to manage network settings, including parental controls and media sharing preferences, from any Android or iOS device.

Learn more about intuitive web interface >
https://www.tp-link.com/common/Spotlight/webUI.html


For more information, please visit the following link:
https://www.tp-link.com/us/products/details/cat-5506_Archer-C3150.html

​
Specification
Write a review
Your Name:
Your Review:
Note: HTML is not translated!
Rating:
Bad
Good